China says S. Asia ties 'no threat to third party'
Posted by Editor on September 2, 2012 - 6:05 am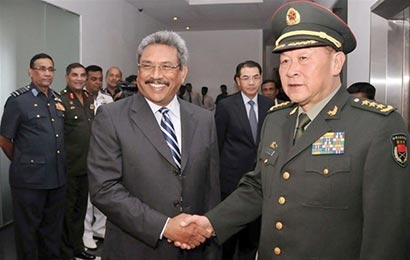 Chinese Defence Minister Liang Guanglie says Beijing's increasingly close ties with South Asia are aimed at ensuring regional "security and stability" and are not intended to harm any "third party".
Liang, the first Chinese defence minister to visit Sri Lanka, did not name India — where he heads to Sunday — but officials in New Delhi have expressed concerns about Beijing's influence in Sri Lanka, Bangladesh, Maldives, Nepal and Pakistan.
India fears it might be part of a Chinese policy to throw a "string of pearls" — a circle of influence — around regional rival India.
But in a speech released by Sri Lanka's military on Saturday, Liang said that China had only peaceful intentions in South Asia, while stressing that the Indian Ocean was an important supply route for his fast-developing country.
Beijing is seeking "harmonious co-existence and mutually beneficial and win-win cooperation" with countries in the region, he told a Sri Lankan army staff college on Thursday, according to a copy of the speech.
In New Delhi, the minister will be a guest of the defence ministry, an Indian government spokesman said, without giving details of what will be discussed.
India is warily eyeing growing Chinese clout in what New Delhi regards as its traditional sphere of influence.
Liang dismissed the "China-threat theory".
"Some people in the international community suspect that China would take the road of expansion with force and have been actively spreading the 'China-threat theory'," he said.
"The People's Liberation Army (China's armed forces) efforts in conducting friendly exchanges and cooperation with its counterparts in South Asian are intended for maintaining regional security and stability and not targeted at any third party," he added.
Liang said his trip to Colombo was aimed at further strengthening close ties with Sri Lanka, including military cooperation.
Source: AFP
Latest Headlines in Sri Lanka