China Wants To Turn The Indian Ocean Into The China Ocean
Posted by Editor on February 13, 2018 - 2:52 pm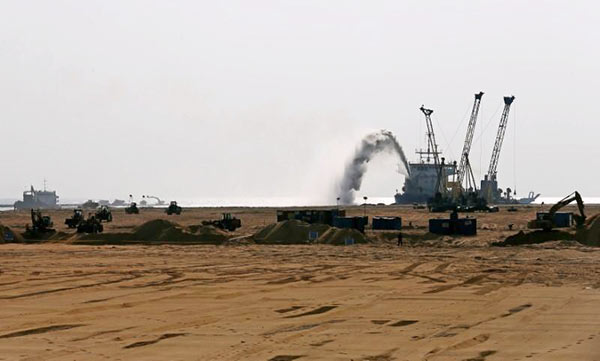 China wants to turn the vast Indian Ocean into the China Ocean. When it comes to investment and commerce that is.
To execute this grand plan, Beijing is investing heavily in several infrastructure projects. Like Sri Lanka's ports of Colombo and Hambantota, which give Beijing a trade outpost into the Indian Ocean. And the China–Pakistan Economic Corridor (CPEC), a colossal infrastructure project, which connects China's western territories to the Indian Ocean.
But that's the old news. The new news is that China is turning Maldives into another trading outpost with the acquisition of land there, and the signing of a free trade agreement.
These developments have irked India, for a couple of reasons. One of them is economic. Sri Lanka and Maldives can serve as a base for China to flood the Indian market with its products. Malvides, for instance, has a free trade agreement with both India and China. This means that Beijing can send products to Maldives first, and then re-export them to India.
The other reason is geopolitical. China wants to encircle India by turning trade outposts into military outposts.
To be fair, China has repeatedly asserted that it doesn't plan to use the port for military purposes.
The trouble is that history proves otherwise. In the past four years, Chinese submarines  have begun suddenly and repeatedly showing up in the Chinese-operated South Container Terminal in the port of Colombo.
And that's in spite of India's high-profile protests, which included join naval exercises with America, Japan, and Australia.
While it is unclear whether China will succeed in turning the Indian Ocean into the China Ocean, one thing is clear: antagonism between China on the one side and India and its allies on the other will intensify, as China rises economically.
And that raises geopolitical risks, something investors should be concerned.
| | | |
| --- | --- | --- |
| Index/Fund | 12-month Performance | 2-year Performance |
| IShares China (FXI) | 22.29% | 53.32% |
| Global X MSCI Pakistan (PAK) | -28.42% | 3.93 |
| iShares S&P India 50 (INDY) | 20.48 | 56.99% |
(Source: Forbes)
Latest Headlines in Sri Lanka