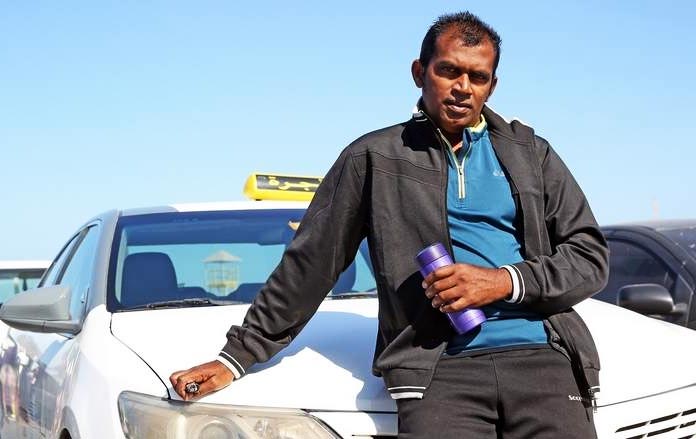 When Suresh Pattali of the Khaleej Times flagged down a cab in the mad morning rush to keep a medical appointment, little did he know it would be a journey into the plebeian life of a forgotten national hero.
Buckling up in the front seat of the Emirates Taxi cab, his prowess to identify different races seems to have worked.
"Which place in Sri Lanka are you from?"
The driver, a middle-aged Sinhalese, was taken aback by the quick-shot query. "Kandy, sir. Why?"
"Where exactly in Kandy?"
"Nawalapitiya, sir. And you are from?"
"From Kerala, India."
"So, you know PT Usha and Shiny Wilson?"
"Of course, they were newsmakers of yesteryear, but I never got a chance to meet them. Why?"
"I knew them in their prime, sir. I also knew Bahadur Prasad Singh, former Indian middle distance runner. He was a good friend."
"Wow! But how? Did you chauffeur them around?"
"Sir, I too was an international athlete. Sri Lanka's middle distance runner, with international gold and silver medals under my belt."
The exchange happened in less than a minute. Then there was silence. Except for our long sighs rising over the vroom of the engine. My destination and hospital appointment suddenly took a back seat. I'm sitting next to a person who once upon a time, was the pride of a nation. The journalist within me wanted to ask, 'What on earth are you doing here?' If life is a tragicomic musical, here is a living protagonist who would fit the bill of the tragic hero. Something in my gut told me I had no reason to disbelieve him. Innocence was writ large on his face. The story of Lalith Prasanna Galappaththi, odd man in the family of two sets of twins, reeks of the neglect and indifference that retired heroes typically face in the cruel world of sports in the subcontinent. He is a decorated athlete who brought laurels to the island nation and is still running the marathon of his life. One that brought him no rewards. No miles to conquer, no medals to win, no records to break, Lalith – married with two children aged 16 and 14 – still has the passion burning inside him.
For the next couple of hours, I was like a kid listening to a bedtime story. Eyes wide open.
Lalith had just finished his A Levels from Anuruddha College, when the desire to shape up kicked in. One fine morning in 1991, dressed in a Sri Lankan jersey gifted by athlete Ajith Dharmasena, he set out on a jogging routine. An acquaintance quizzed him about the ethics of wearing the national colours. "The day will come when I will wear the colours for the nation." He fought back the tears of embarrassment with the pledge, and never looked back. Training under coach Norbert Perera and later under Janze Dissanayake, Lalith tasted his first win when he took home gold in a 20-km cross country run in his village. A couple of district-level honours later, Lalith won his first national-level title  – he placed third in the 3,000 metre steeplechase. That's when Dissanayake realised his middle distance potential and made him concentrate on the 1,500- and 800-metre races. The turning point came in 1995 when he set a 1,500 metre national record with 3 minutes and 46.2 seconds in the South Asian Federation Games selection meet.
The son of a grocer, and training under veteran national coach Dervin Perera, Lalith made his international debut by winning gold in the 1995 and 1996 Malaysian Open Championship. The same year, he won another gold in the Indonesian Open Championships and a bronze in the South Asian Federation Games in Madras. What followed was a relentless rain of titles and medals in 14 international meets till he pulled out injured from the Sri Lankan Olympic squad in 2002. Lalith said he is thankful to his sponsor Deshamanya Lalith Kotelawala, founder of Ceylinco Insurance, who was magnanimous enough to give him cash rewards every time he brought in a medal.
Despite the fame, life for Lalith has been a race to nowhere. During the competition period he was offered a job with the Sri Lankan Air Force where he was employed from 1993 to 1998 without taking part in any action. The year 1999 witnessed two milestones – a  job as middle distance coach with the Ministry of Sports and wedding to his childhood heartthrob. Life only got harder with a paltry pay of 20,000 SL rupees. Living in Colombo as part of the job – with no facilities such as housing, insurance, transportation etc – made life more miserable which forced Lalith to quit the pensionable job to seek out greener pastures. He bears no ill-will, but the thought that life would have been rosier had he chosen a different path crosses his mind when he sits behind the wheel in the UAE. Lalith is grateful to the Emirates Cab management for his present job.
Coming on a visit visa in 2012, the former athlete found a bellboy's job with a hotel apartment in Bur Dubai where he worked till 2014. "My life is a sum of simple math and a little logic. There is no space for big dreams in it. In Colombo, I was getting 20,000 rupees. With the UAE job, I send home around 100,000 rupees. Period." Taking a break for one year, Lalith was back in 2015, this time as an Emirates Taxi driver in Abu Dhabi. With a college-going daughter and son to take care of, fate has not given him a choice except to slog over 15 hours a day. "I love my country. It's a paradise. But politicians are not interested in taking good care of sportsmen who are the ambassadors of the nation. Heroes are at the end of the day conveniently dumped into oblivion."
Lalith, whose favourite athlete is former American sprinter Carl Lewis, doesn't think he is a spent force. He runs at least twice a week to keep himself fit. "I still have a burning desire to go back to the field in different roles. I have the knowledge which I had acquired as a middle distance coach in Sri Lanka. I wish I could land the job of a coach with one of the clubs or schools in the UAE. That's my ambition. This county is now a global educational and sports hub which, I am sure, could have some space for me as a coach. I can deliver," says Lalith.
Moment that haunts him forever
Looking back, Lalith Galappaththi feels that all the memorable moments from his 11-year-long running career were shattered by a single tragic incident. Famed Sri Lankan Olympic marathoner KA Karunaratne was killed along with Highways and Road Minister Jeyaraj Fernandopulle and 12 others when an  LTTE suicide bomber attacked a marathon opening at the western district of Grampaha, about 25km from Colombo.
"It was the saddest moment in my life. I had been associated with him for over 20 years. It was shocking that one of our best sporting talents was lost to a mindless act of terror," says Lalith.
He says making friends with Indian runner Bahadur Prasad and receiving a medal from the then Tamil Nadu chief minister J Jayalalithaa are some of the memorable takeaways from his sporting days. "I met Bahadur at various meets. He was working for the Indian Railways and I with the Sri Lankan Air Force. He won a bronze at the Bangkok Asian Games while I lost in the second round. We got along well. I also had the opportunity to interact with PT Usha and Shiny Wilson."
Training under veteran coach Dervin Perera, who was also former president of the Athletic Association of Sri Lanka, was a great achievement.  "He was one of the most successful athletics coaches in Sri Lanka. Both Olympian Susanthika Jayasinghe and I trained under him. That's when I made friends with Susanthika."
He holds close the friendship with Sugath Thilakaratne, Olympian and the 1998 Asian record holder in 400 metres. "He is one of my best friends. We both come from the same village area in Kandy. Sugath is also former president of the Sri Lanka Athletic Association."
"Had I got a chance to train under Dervin in my initial days instead of the divisional coaches made available to me, the story of Lalith Galappaththi would have been different."
(Source: Khaleej Times)