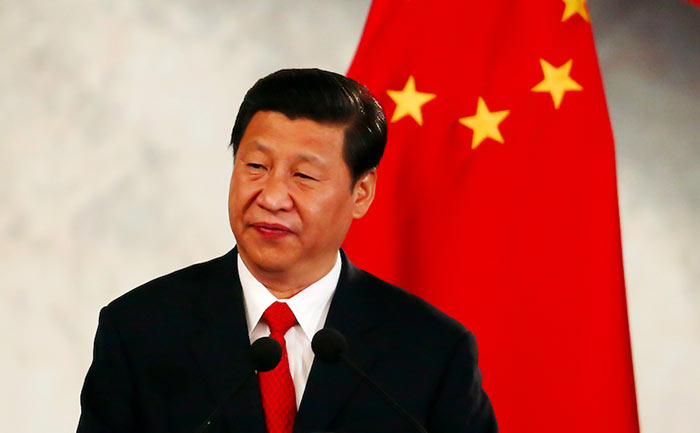 Chinese President Xi Jinping has offered Sri Lanka a fresh grant of 2 billion yuan ($295 million), as Beijing looks to expand its influence in the tiny island country off India's southern tip.
President Maithripala Sirisena of Sri Lanka, a partner in Beijing's multi-country Belt and Road infrastructure push, made the announcement on Saturday at a ceremony marking the start of construction of a Chinese-funded kidney hospital in his home constituency of Polonnaruwa, 230 km (142.92 miles) from Colombo.
"When the Chinese ambassador visited my house to fix the date for this ceremony, he said that Chinese President Xi Jinping sent me another gift," Sirisena told the gathering.
"He has gifted 2 billion yuan to be utilized for any project of my wish. I'm going to hand over a proposal to the Chinese ambassador to build houses in all the electorates in the country," he added.
The grant offer comes at a time when a Chinese firm is facing heavy criticism for allegedly financing the last election campaign of former President Mahinda Rajapaksa here
Last month, the New York Times reported that China Harbour Engineering Company Ltd (CHEC) gave $7.6 million for Rajapaksa's re-election bid, which he lost to Sirisena in early 2015.
Rajapaksa, the Chinese embassy in Colombo and state-owned CHEC have all denied the allegation, but Sirisena's coalition government held a parliament debate on Thursday over the report and called for an investigation into the alleged funding.
Sirisena had at the start of his term suspended most of the Chinese-backed infrastructure projects started under Rajapaksa over suspected corruption, overpricing and for flouting government procedures.
But more than a year later, the Sirisena government allowed Chinese projects to resume after a few changes in some of them.
NO STRINGS ATTACHED
China was among the first countries that stepped in to help the reconstruction of Sri Lanka after a 26-year-long civil war ended in 2009.
China and Sri Lanka have traditionally been friends and China has provided assistance according to Sri Lanka's development needs, Chinese Foreign Ministry spokesman Geng Shuang said at a daily news briefing in Beijing on Monday.
"The relevant assistance does not come attached with any political conditions and is for the benefit of the Sri Lankan people," Geng said, without directly referring to the 2 billion yuan pledge Sirisena announced over the weekend.
However, many of China's projects, backed by loans from its government and initiated under Rajapaksa, have faced opposition in Sri Lanka amid concerns raised by the United States, India and Japan that China might use Sri Lanka as a military base.
The 2014 docking of a Chinese navy submarine in Colombo raised an alarm in New Delhi, prompting Indian Prime Minister Narendra Modi to boost ties with Sri Lanka and claw back influence in the Indian Ocean region.
Both the Sri Lankan government and Chinese embassy in Colombo have denied any plans to use a southern port now handled by a Chinese firm for military purpose.
(Reuters)