Chinese Defense Minister called on President
Posted by Editor on March 21, 2017 - 7:25 am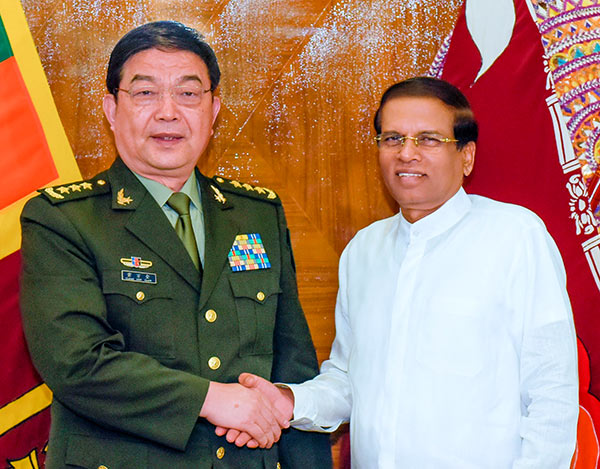 The Minister of Defense and State Councilor of the People's Republic of China General Chang Wanquan who is on a official visit to Sri Lanka called on President Maithripala Sirisena yesterday (March 20) at the official residence of the President.
The President who recalled the long term relationship between Sri Lanka and China thanked for the support given by China for the independence and national security of Sri Lanka.
He also extended thanks for the Chinese government for the training opportunities which have been provided to Sri Lankan security forces for a long time. The President commended the assistance given to Sri Lanka by the Chinese government during the crucial period of war in the country.
He expressed his trust over China's continues provision of required training for the security forces in Sri Lanka.
President Sirisena stated that the two countries will come into several agreements. He said those agreements will not do any harm to the pride, independence and national security of Sri Lanka.
General Chang Wanquan said that a strong foundation has been built for the betterment of the economy, society and the people under the current President of Sri Lanka. He conveyed the congratulations by the President of China on this regard.
General Wanquan further stated that China's objective is to strengthen the long term relationship with Sri Lanka. He recalled that the diplomatic relations between China and Sri Lanka have a history of sixty years.
(President's Media)
Latest Headlines in Sri Lanka