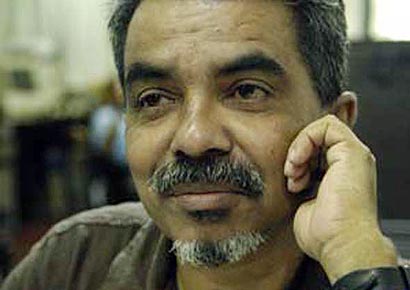 The Criminal Investigation Department (CID) officers conducting investigations into the disappearance of journalist Prageeth Ekneligoda have unearthed evidence to suggest that he may have been killed and dumped in the seas off Trincomalee.
Police said Ekneligoda may have been taken to a camp in Soriwila in the Manampitiya area before being murdered and dumped in the sea off Trincomalee. According to sources, one of the suspects under arrest in connection with the case has said that Ekneligoda's body was first buried in Soriwila.
"The CID teams handling investigations found information to suggest that Eknaligoda's body had later surfaced due to the flooding of the pit and following this, the body had been removed from the site and had been dumped into the sea," a highly placed Police source told the 'Daily News'.
Investigations revealed that Ekneligoda was abducted in 2010 by two Army Intelligence Division Officers, who are already in CID custody.
Sources revealed that the two Intelligence Officers were former LTTE members belonging to the Karuna faction.
It is believed that Ekneligoda may have been killed in a transit camp at Mannampitiya which was under control of Vinayagamoorthy Muralitharan alias Karuna Amman and Sivanesathurai Chandrakanthan alias Pilleyan.
At that time Pilleyan had acted as the officer in charge of the camp.
Meanwhile, information has surfaced that Ekneligoda's disappearance was due to direct orders by a high ranking individual in the defence establishment during the time of the previous regime. Eknaligoda was abducted two days before the Presidential election in 2010.
At present, 11 suspects including several Army Officers are still in CID custody and investigations are ongoing.
The CID teams took the suspects to the Girithale Army camp last week, under the protection of the Military Police, to identify places where the abducted journalist was allegedly kept.
(Daily News)