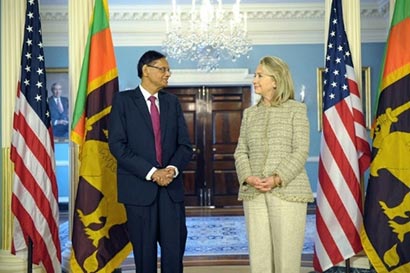 U.S. Secretary of State Hillary Clinton Friday praised Sri Lanka's plan to implement post-conflict recommendations made by an independent commission recently, during a meeting with Prof. G.L. Peiris, Sri Lanka's minister of external affairs.
During their 45-minute meeting, Minister Peiris outlined the mechanism adopted by Sri Lanka's presidential secretariat that will be used to implement recommendations made by the independent Lessons Learnt and Reconciliation Commission (LLRC), which examined Sri Lanka's successful conflict against the Liberation Tigers of Tamil Eelam.
The commission issued its final report, and 285 recommendations, late last year. The government at that time announced its intention to adopt many of the recommendations, and several have already been put in place.
During Friday's meeting, Secretary Clinton called the presidential secretariat's program an, "excellent mechanism for implementing the LLRC's recommendations."
That sentiment was later repeated in the State Department's daily press briefing, where spokeswoman Victoria Nuland stated, "The Sri Lankan Foreign Minister presented a very serious and comprehensive approach to the Lesson Learnt and Reconciliation Commission's implementation and the plan the government has, including plans to make it more public and accessible both to Sri Lankans and to those outside Sri Lanka…She said, 'Good plan.' "
Prior to their meeting, Secretary Clinton stated, ""The United States strongly supports the process of reconciliation and reconstruction in Sri Lanka," Secretary Clinton said as the meeting got underway. "We have very strong, important ties between our two countries. We were encouraged to see the end of a very long, bloody, terrible conflict, and look forward to working with Sri Lanka as they pursue their commitment to a better future for all the people.
"And the United States wants to be a supportive partner in those efforts. I'm looking forward to a productive conversation with the minister."
On the fourth and final day of his official Washington visit, Minister Peiris noted that he last met with Secretary Clinton in 2010, and that, "During the intervening period of two years, a great deal has happened in my country, and by any standard, those developments represent a substantial accomplishment.
"We have been able to complete 90 percent of the work connected with the resettlement of the people who were displaced by the conflict, and there is also a very moving story in human terms with regard to the ex-combatants who have all been rehabilitated," he said. "This includes 595 child soldiers who – they have all been reintegrated into society.
"The most striking developments have really been in the northern province of Sri Lanka where the economy is growing by as much as 22 percent in comparison with the average for the rest of the island, which is about 8 percent…..Of course we are, at the same time, addressing other aspects of reconciliation including land, language, which is a key to the understanding of other cultures, and it is also, as I'm sure you would agree, a very powerful instrument for preventing the stratification of society. We are also addressing, in earnest, constitutional reforms which are appropriate at this stage of the country's political and social development."
The talk with Secretary Clinton capped a day of constructive meetings within the State Department for Minister Peiris. Stops there included sessions with Robert Blake, the assistant secretary of state for South and Central Asian Affairs and a former U.S. ambassador to Sri Lanka, Michael Posner, assistant secretary for Democracy, Human Rights and Labor and Stephen Rapp, Ambassador-at-Large for Global Criminal Justice.
Minister Peiris also held constructive discussions with Ambassador William Wood, a senior advisor to the Office of the Special Advisor for Non Proliferation and Arms Control and with Amos Hochstein, deputy assistant secretary of the Bureau of Energy Resources, in charge of Iran Sanctions Issues.
Also present during the discussions were Environment Minister Anura Priyadhashana Yapa, Monitoring MP of External Affairs Ministry Sajin de Vass Gunawardena, Secretary to the President Lalith Weeratunga, Sri Lanka's Ambassador to U.S. Jaliya Wickramasuriya, Additional Secretary /External Affairs Ministry Kshenuka Senewiratne, and Deputy Chief of Mission Esala Weerakoon of the Sri Lankan embassy in the U.S.
Source: Government News Portal