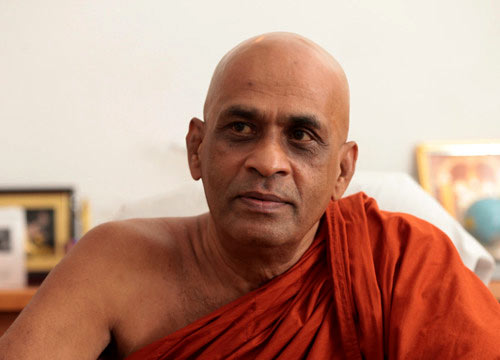 Ven. Elle Gunawansa Thera yesterday asked the government not to deceive the people with regard to the Steering Committee (SC) report and urged the MPs to avoid supporting it when presented in Parliament.
The interim report is to be debated in Parliament on October 30, 31 and November 1.
The monk told a news conference organised by the 'Yuthukama' Forum that MPs especially those from the two factions of the Sri Lanka Freedom Party (SLFP) should not support the interim report.
"By all means, the MPs can keep the vehicles and all privileges they enjoy but please don't support this sin. I will visit constituencies represented by the MPs and make people aware of the dangers if this report is approved," he said.
The monk said he had no faith in any political party and said politics had dragged the country to an abyss and it was clergy and the laity who were maintaining this country.
He said neither the Prime Minister nor anyone else had the right to question the statement made by the Karaka Sangha Sabha.
"We don't ask whether the Premier or the Ministers whether they were there when Cabinet decisions are made," the Thera said.
With regard to the proposal to abolish the executive presidency, the Thera said the 13th Amendment to the Constitution should be abolished before pruning the powers of the presidency.
Former Bar Association of Sri Lanka (BASL) Secretary Sarath Wijesinghe said the 13A was forced on us by outsiders.
"The current Constitution too has federalist features. It's unitary character has been preserved because of the powers of the executive presidency. The US and India can afford to maintain a federal system because those countries are enormous but not small like ours," he said and added that the questions asked by the BASL on the constitutional-making process were compiled legally.
"If anyone has quarries or doubts about the legality of the way the questions were asked, they can attend the upcoming BASL conference today and see for themselves," Mr. Wijesinghe said.
Former Ruhuna University Vice-Chancellor Susirith Mendis said a constitutional draft had already been prepared and the proposed three-day debate on the interim report was an eyewash.
He said the new Constitution was a result of an international conspiracy and the constitutional process had become a play of words.
Yuthukama Forum Head Gevindu Kumaratunga said there was no need to 'bomb' Parliament because the committee report itself would become a bomb if it was passed. "We urge the government to throw this report into the Diyawannawa," he said.
(Source: Daily Mirror – By Lahiru Pothmulla)