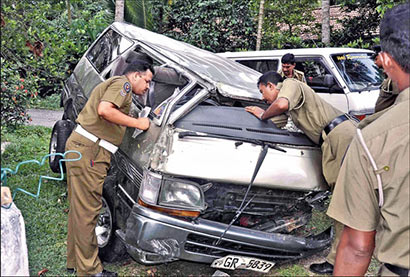 A couple died when the van they were travelling, plunged from a bridge close to the Baddegama interchange on the Southern Expressway yesterday morning. The victims were identified as Piyasena Rubasinghe, 77, elder brother of former Information Director and President's Media Coordinator Ariya Rubasinghe and his wife Chandra, 60.
This is the first twin fatality reported on the Southern Expressway. The victims were residents of Weeraketiya. The ill-fated vehicle had bounced off the Expressway at the 81.9 kilometre spot with no protective fence and fallen down the precipice on the Badegama- Wanduramba main road off the Expressway.
Villagers who rushed to the scene to evacuate the victims, noticed that Rubasinghe had died on the spot. The body was sent to Baddegama Hospital while the injured were admitted to Karapitiya Teaching Hospital.
Chandra Rubasinghe died at the hospital. Rubasisnghe's son and the driver of the vehicle are receiving treatment at the Karapitiya Teaching Hospital.
The vehicle was heading for Galle from Colombo. Baddegama Police found Rs 350, 000 inside the vehicle which was been handed over to the victims' relatives. Baddegama Police are investigating.
(Courtesy: Daily News)