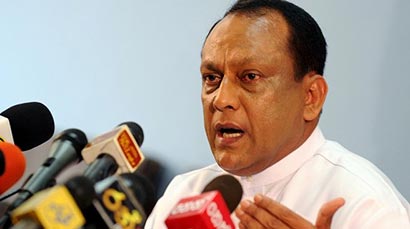 Homagama Magistrate Y.R.B. Nelundeniya issued notice on Thursday (9 January) to Minister of Investment Promotion Lakshman Yapa Abeywardena requesting his appearance in Court on Sunday (19 January) to inquire about a statement the minister had made to the Lanka newspaper in 2012 about the still missing journalist Prageeth Ekneligoda.
Abeywardena is alleged to have said that Ekneligoda was in fact in the country and the only reason he could not be produced before a Court or be found was due to the incompetency of security forces personnel.
Lanka Chief Editor and Sri Lanka Journalists' Trade Union General Secretary, Priyantha Karunaratne, has also been notified to appear in court, to give evidence.
The Homagama Magistrate's Court has also issued a warrant for former Homagama Police OIC Charith Jayasundara, who is a respondent in the habeas corpus writ filed in the Court of Appeal regarding the disappearance of Ekneligoda.
As Jayasundara was not present at the petition hearing and inquiry conducted by Magistrate Nelundeniya on Thursday (9 January), Attorney-at-Law Upul Kumarapperuma, representing the petitioner, requested the Court to issue a warrant.
Former Homagama Police OIC Charith Jayasundara told Ceylon Today, "Regarding the Ekneligoda disappearance, I recorded a statement from Ekneligoda's wife Sandya Ekneligoda who came accompanied by Attorney-at-Law Gamini Herath. She was residing in our jurisdiction. Even though, I employed two teams to investigate we found no evidence of an incident happening in Homagama with regards to Ekneligoda. It had happened in Thalangama-Koswatte. Regarding the warrant that has been issued against me, I must state that it is because the Court date was not informed to me. On Thursday (8 January) I was at the Jaffna High Court as the main witness for an important case. The general procedure is that when court dates clash one must attend the High Court, and not the Magistrate's Court."
"This comment was made in January 2012 and although we verified it from Minister Abeywardena at the time, it was initially reported in another paper," said Lanka Chief Editor Priyantha Karunaratne.
Although the Minister of Investment Promotion Lakshman Yapa Abeywardena was not available for comment despite several attempts by Ceylon Today, his Media Officer, Kodithuwakku, stated "Even the minister is clueless about the court notice. He has informed Deputy Minister Faiszer Musthapha to look into the matter. Minister Abeywardena suspects that this may have something to do with a comment he may have made during his time as the Acting Media Minister in 2012 regarding the Ekneligoda disappearance."
Police Media Spokesman SSP Ajith Rohana told Ceylon Today, "We cannot comment on the Minister's comment. The police investigation is ongoing but we do not still have sufficient information."
(Courtesy: Ceylon Today)