Crucial talks on SL today
Posted by Editor on March 2, 2012 - 7:16 am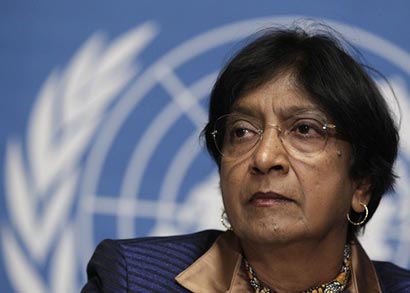 The Lessons Learnt and Reconciliation Commission (LLRC) report is likely to be referred to by the United Nations Human Rights Chief Navi Pillay as Sri Lanka is scheduled to be a subject of discussion at the UNHRC sessions today.
Ms. Pillay said though the LLRC report fell short of a comprehensive accountability process as recommended by the UN Secretary General's experts' panel, yet it contained some positive recommendations.
The United Nations Human Rights Council (UNHRC) yesterday wrapped up the High Level Segment of its 19th session where several countries made their policy statements. South Africa, Thailand, Botswana and Indonesia were among the countries that made positive remarks about the Sri Lankan situation. However, the European Union (EU) stressed the need for accountability in the reconciliation process in Sri Lanka.
The normal programme of the 19th UNHRC session will start today, and Sri Lanka's issue was to be taken up for discussion under Item 2 of the agenda. The LLRC report will also be discussed by the member countries today.
"While the report falls short of the comprehensive accountability process recommended by the Secretary-General's Panel of Experts, it does make important recommendations. I encourage the Government to engage with the Special Procedures and with my Office on the follow up to the report," she says in her speech adding that states have an obligation to protect their citizens from threats to their security in a manner that respects human rights.
"My Office has assisted States develop and implement security policies, including counter-terrorism measures in accordance with international human rights law. We have seen the lifting of long-standing emergency measures in Sri Lanka, Malaysia and Fiji, although some provisions restricting fundamental rights remained or have been reintroduced," she says in her speech.
Courtesy: DM Online
Latest Headlines in Sri Lanka