Crude oil pipeline bursts
Posted by Editor on July 5, 2014 - 9:13 am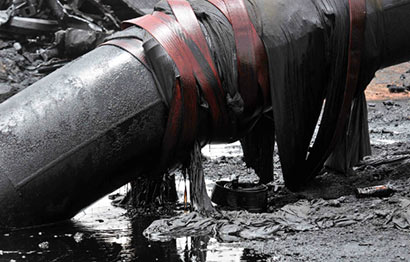 The unloading and storing of refined crude oil was halted yesterday due to a pipeline bursting off the buoy located in the sea off the coast of Uswetakeiyawa.
According to the Managing Director of the Ceylon Petroleum Cooperation (CPC), Susantha Silva, a team of divers had been deployed to contain the burst and assess damages.
"Our team of divers has already identified the damage. They are working on finding a solution to the problem in order to carry out further repairs."
A similar pipeline burst on 25 June, which resulted in the closure of the Sapugaskanda oil refinery.
However, Silva was adamant there would not be a fuel shortage. "I can guarantee there will not be a fuel shortage in the next 30 days. We are doing our best to resolve this issue."
The Jathika Sevaka Sangamaya of the CPC however, said the problem of the pipeline bursting could have been avoided if the correct type of pipeline was used.
"What is being used currently is a pipeline of low quality which is not even up to international standards."
The General Secretary of the Jathika Sevaka Sangamaya, Ananda Palitha, said if the internationally recognized Dunlop or Bridgestone type pipeline were used this problem would not have arisen.
"Since 2010, a substandard pipeline has been in operation. Why the administrators of the CPC use a substandard pipeline when they are aware of products of higher standard, is the question."
He further said due to this dilemma, among other issues, the Jathika Sevaka Sangamaya has written to the President requesting his immediate intervention.
(Courtesy: Ceylon Today)
Latest Headlines in Sri Lanka