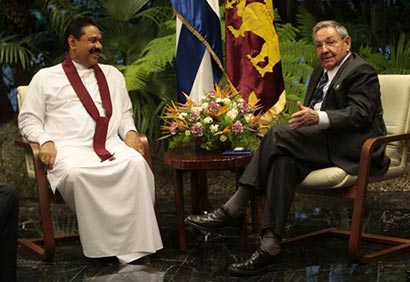 Sri Lanka's President Mahinda Rajapaksa, left, sits with Cuba's President Raul Castro inside Revolution Palace in Havana, Cuba, on Saturday (June 16). Image courtesy – Suomen Kuvalehti.fi
Cuban President Raul Castro and visiting President Mahinda Rajapaksa of Sri Lanka agreed Saturday to further strengthen cooperation between their countries.
The two leaders highlighted the good state of the bilateral relationship and expressed common willingness to further promote it, the official NNTV news reported.
Earlier in the day, Rajapaksa, who arrived on Friday for a three-day state visit, laid a wreath to the statue of Cuba's National Hero Jose Marti at Revolution Square and visited other places of historical and economic interests.
Rajapaksa also visited the Center of Biological Medicines, as Colombo is interested in enhancing collaboration in the field of biotechnology with Havana.
The Sri Lanka president is scheduled to leave Cuba on Tuesday to attend the United Nations Conference on Sustainable Development in the Brazilian city of Rio de Janeiro, better known as the Rio+20 summit.
Cuba and Sri Lanka established diplomatic relations in 1959, six months after the triumph of the socialist revolution on the island. The two nations have developed close ties in education, health and sports.
Cuba sent a medical brigade with biotechnological drugs to support Sri Lanka immediately after a devastating tsunami hit the country in 2005.
Xinhua