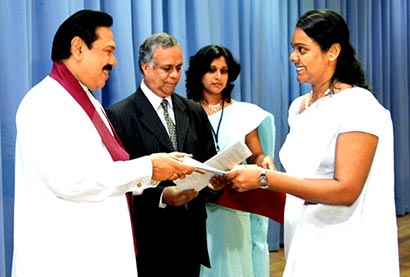 "Customs officers should render an honest, sincere and dedicated service and strive to rake in the maximum possible revenue to state coffers," said President Mahinda Rajapaksa when he presented appointment letters to a batch of 280 Customs Superintendents and Inspectors at a ceremony at Temple Trees yesterday.
The President said Customs officers are serving the state rather than any individual and as such, they should render their service in a disciplined manner that would bring honour to their country as well as their parents who nurtured them.
"At a time when the country is rapidly moving on the development path after ending a 30 year war, the Customs Department has been able to earn a large portion of vital revenue to the state."
He hoped that the Customs would be able to earn a revenue of Rs 570 billion for state coffers this year.
The President who recalled the previous government moves to privatize the Customs Department said it was thwarted due to the dedicated efforts made by the Customs officers themselves.
If the privatization effort succeeded, the government would have lost the Customs Department which was a main source of income to the state.
Finance and Planning Deputy Minister Geethanjana Gunawardena, Director General of Customs Neville Gunawardena and Deputy Secretary to the Treasury P Abeysekara were also present on the occasion.
Courtesy: Daily News