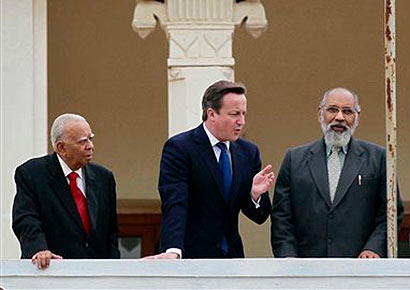 – by Shenali D Waduge –
Those preparing the speeches of David Cameron and advising him what to say in Sri Lanka have made a big blunder – they have forgotten to mention that 3 Britishers were killed on 3 May 1986 when the plane they were onboard was bombed by the LTTE killing the McPherson family and 21 others injuring over 40. Of the 13 foreigners who died there were Germans, French, Japanese, 1 Maldivian and 1 Pakistani. In darting off to Jaffna, Cameron missed out on what he should have done as a Britisher to place a wreath at least at the very airport he landed where his own people died not during the last phase but almost 3 decades ago.
UL Air Lanka Flight 512 arrived at the Bandaranaike International Airport from London, Gatwick Airport via Zurich and Dubai about to depart to Maldives before the plane was ripped apart in the centre into two pieces. It was no technical error. The bomb had been placed in crates of meat and vegetables being freighted to Maldives and the bomb had been placed by the LTTE and blew minutes before all 123 passengers had been seated for take off. archives.dailynews.lk/2009/06/06/fea30.pdf
Please find below the list of Foreign Passengers killed
1. Mr R.BALAS
2. Mr B.ROVEL
3. Mrs M.C.ROVEL
4. Mr FRANC
5. Mr C. ITO
6. Mr H.MITHSUWA
7. Mr SIYAD HUSEN
8. Master J.A RAHUMAN
9. Mr. McPherson
10. Mrs. McPherson
11. Miss McPherson
12. Mr M.C CATAR
13. Mr DIMAR SALLE
14. Mr D.TYNECS
Sri Lankans killed
Mr PD GUNASENA
Mr HH JINADASA
Mr JOHAN CHUNKI
 http://news.bbc.co.uk/onthisday/hi/dates/stories/may/3/newsid_2481000/2481291.stm
Were not these 123 passengers not civilians?
Did they do any harm to the LTTE?
Why would the LTTE target them?
Are these crimes committed by LTTE not as important as the civilian deaths of Tamils during the last phase of the war to David Cameron?
Does the British show concern only for Tamil civilians and if so why,  what about scores of other civilians killed?
Had Cameron spent enough time in Colombo, plenty of families would have handed him photos of loved ones that LTTE killed and the British High Commission should have ideally introduced Cameron to the scores of civilians in the South who have been injured some even blind, limbless and traumatized still.
David Cameron if he was fair should accept letters and photographs of these civilians as well why only a selected number?
The entire North visit was pre-arranged – otherwise how would these families have been gathered at one spot, with letters written in English, laminated photos enlarged and the wails and cries no sooner Cameron got down.
Perhaps if the British High Commission in Colombo had been a little more concerned they would have mentioned to the British Prime Minister that UL512 carried 25 Britons, 5 were injured while the Macpherson family were killed instaneously.
However, since the British authorities skipped mention of Mr. Macpherson we would like that David Cameron includes these details the next time he issues ultimatums upon a sovereign nation.
Mr. Tim Macpherson was the Managing Director of Associated British Maltsters Ltd. of Newark. He died along with his wife Dierdre and their youngest daughter Iona who was 20. In 1986 when the company announced his death they said that he died from a 'terrorist bomb' that wrecked a 'holiday airline'.
Incidentally, Mr. Macpherson was a Scot but born in India. The MacPherson's are survived by their 2 daughters Louise and Kate.
Letters of condolence and tributes poured in from around the world:
'we lose a guide, enjoyed everyone's esteem ….. one of the great personalities' (Belgium)
'not only a business associate, but a great friend. …. Cannot stress how much he will be missed' (France)
'a distinguished business leader (whose) loss will be felt by the whole malt industry to which he selflessly devoted himself over many years' (Japan)
'a great ambassador' , and, from a competitor:-'good friend ….. powerful competitor….. unbelievable energy and drive…. brilliantly held the malting industry together in difficult times….always the greatest fun…..and lived life to the full '
The Macphersons Memorial Trust has received over £60,000 donations and provides scholarship for young people within the Malt industry. The two daughters relaunched the Trust in 2011.
If David Cameron missed out even placing a wreath in memory of the 3 Britishers killed by the LTTE way back in 1986, it should not surprise us that he has conveniently omitted the deaths of scores of other Sri Lankans who died over 30 years of terror by the LTTE.
Every terror act that took place throughout the 30 years was accompanied by a very bland diplomatic statements asking both parties to get back to the negotiating table and never was any of the terror incidents reported by foreign media ready to attribute these acts of terror to the LTTE – every news item claimed that the Government of Sri Lanka 'alleges' that the LTTE had committed the crime. Never did a single foreign media comment that LTTE were brutal terrorists and should be stopped in the same manner they wrote against the Al Qaeda and Osama bin Laden fully aware that Al Qaeda was a creation of the US.
Be that as it may it is becoming rather silly when a country like Britain aware of its own crimes thinks that delivering speeches in its Parliament speaking on human rights and accountability is not going to be laughed at by all listening.
Now, even the British are beginning to realize the lies the British Parliamentarians are feeding them.