'Death threats' against Judge Deepali
Posted by Editor on November 23, 2011 - 7:08 am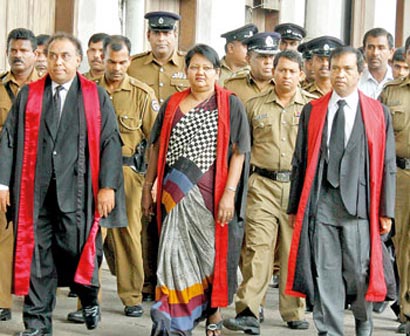 The judge who presided over the High Court Trial-at-Bar that convicted Former army commander Sarath Fonseka says that she had received death threats throughout the trial.
Deepali Wijesundera who chairs of the High Court Judges Association (HCJA) of Sri Lanka said that she is not sure who was threatening her.
Wrawewa never infomed about threats
When asked about media reports of threats against one of the judges in the Trial-at-bar which convicted Gen. Fonseka who challenged Mahinda Rajapaksa in the 2009 presidential election, Judge Wijesundera dissmissed the allegations saying that the fellow judge had never informed her about the threats.
Justice WTMPB Warawewa who acquitted General Fonseka in the hearing popularised by the media as the 'white flag case' has reportedly been threatened with death following his verdict.
Politically motivated
Deepali Wijesundara, and Justice Zulfikar Razeen found the accused Sarath Fonseka guilty for implicating the government in war crimes.
The court ruled that he lent credence to allegations the defence secretary Gotabhaya Rajapaksa ordered Tamil Tigers to be killed as they tried to surrender in May 2009.
Fonseka rejected the verdict, telling the court was it politically motivated.
BBC
Latest Headlines in Sri Lanka