Decision over MR's security won't be reversed: Ruwan
Posted by Editor on May 6, 2016 - 10:03 am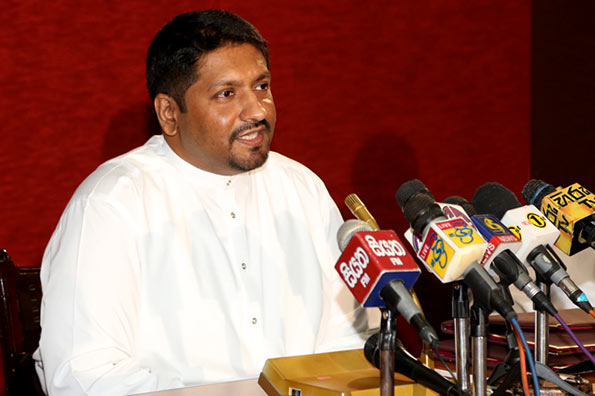 State Minister of Defence Ruwan Wijewardene said the government's decision to withdraw the army from the former President Mahinda Rajapaksa's security division and deploy only the police would not be changed under any circumstance.
He told the media during his visit to the Mihintale Raja Maha Vihara yesterday that it was a decision taken by the Security Council Headed by the President and the Prime Minister. He pointed out that only the police had been deployed to provide protection to the President and the Prime Minister and other VIPs. He said it was not possible to change the decision of the Security Council and deploy the army to provide protection only for the former president.
The minister pointed out that the army was responsible for the security of the country and that the police were able to provide adequate protection to the VIPs who could obtain the services of the STF if required.
He said 50 out of 105 army officials in the former President's security division had already been replaced with 50 police officers and the rest will also be replaced , but it was not a political victimization as alleged by the joint opposition. He expressed concern over the joint opposition's attempt to mislead the people. The minister pointed out that Prime Minister sated in parliament that he was prepared to deploy the number of police STF officials required by the former president. He said it was a question as to why the joint opposition undermined the police and the civil defence department.
Minister Sagala Ratnayake and Mihintale UNP Chief Organiser Karunaratne Herath were present at the occasion.
(Source: Daily Mirror – By Atula Bandara)
Latest Headlines in Sri Lanka