Defeat of LTTE – first such victory in 21st century: Lanka's will power ensures sovereignty-The Economic Times
Posted by Editor on August 13, 2011 - 9:29 am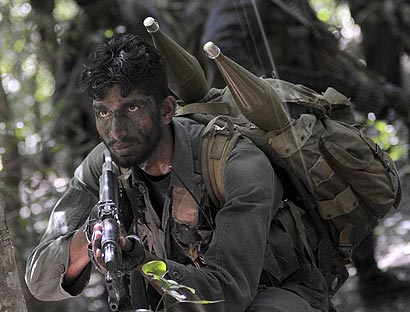 Combining military power with will power has enabled Sri Lanka to recover its sovereignty and restore economic development, stated The Economic Times in a report published yesterday.
Not only did the Sri Lankan Army (SLA) comprehensively defeat the LTTE insurgency – the first such victory in the 21st century, but it also returned the country to a high growth rate path of eight percent, the report said.
The newspaper reported that 'Central Bank Governor Ajith Nivard Cabraal considers the Sri Lankan military very productive, winning the war on the cheap: for $5.5 billion between 2006 and 2009, which is 4 percent of the GDP.
By contrast, the US has spent nearly $1 trillion on its unfinished wars in Iraq and Afghanistan.
"That government message is not going out loudly enough."
The LTTE knew that killing the economy would result in Sri Lanka becoming a failed state. It chose economic targets in Colombo – the Central Bank, international airport and hotels – launching suicide attacks that also destroyed tourism.
Although the annual economic loss during the conflict was around 1-2 percent of the GDP,
the economy grew for the most part, at 6 percent as the insurgency was confined to the North-East. Previous governments did not attempt defeating the LTTE militarily for fear of costs, high political uncertainty, loss of investor confidence and lack of political will. No one knew how India would react but most of all, few believed it was possible to subdue the LTTE. Two years after the war, the investment on defence has paid off. The economic indicators are striking. There is a brain gain instead of the usual brain drain. Inflation is down to single figure, unemployment below 5 percent, fiscal deficit down from 6.8 percent to 5 percent, malnutrition down from 35 percent to 13.5 percent and poverty down to 7.6 percent in 2009-10 from 15.2 percent in 2006-07 – the fastest reduction in the world.
GDP has more than doubled in the last five years to $56 billion and is expected to reach $98 billion in 2016. Tourism is booming and earning annually $600 million. Sri Lanka is calling it Asia's miracle. The focus in the last two years is on post-conflict development in North and East where there has been virtually no development for the last 30 years. Planning for this had started eight months before the end of the war. An estimated $2.5 billion is expected for reconstruction of the North-East for the next three years. The growth rate for the Eastern Province, which was liberated in 2007, is an impressive 14% percent, The Economic Times said.
Courtesy: Daily News
Latest Headlines in Sri Lanka