Land mine free Sri Lanka: Army launches Mine Awareness Programme at Nagarkovil in Jaffna
Posted by Editor on August 13, 2011 - 7:47 pm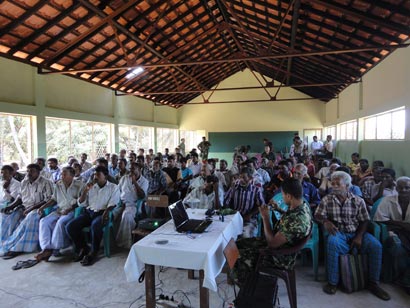 Onlanka News – By Janaka Alahapperuma
The Government of Sri Lanka completed the resettling of all internally displaced people (IDPs) after demining the lands earlier used by Tamil Tiger terrorists in Jaffna Peninsula. On successful completion of early resettlement, Security Forces Headquarters – Jaffna has planned to launch a Mine Risk Education and Mine Awareness programmes in each and every village for all the newly resettled families to avert any unforeseen instances of mine-related incidents.
Therefore Point Pedro based 521 Brigade of Security Forces Headquarters-Jaffna launched this worthy project recently for the civilians in Nagarkovil village to educate them on unexploded ordnance (UXO), land mines and booby traps using computer presentations. Almost all villagers participated in this workshop conducted by the officers of 10th Sri Lanka Army Engineers.
The Government of Sri Lanka had to step up its long processes of demining work to meet the huge humanitarian challenge just after eliminating thirty years of brutal terrorism in May 2009. Almost every district located in the North and East of Sri Lanka were contaminated with indiscriminately laid landmines, UXO and booby traps by Tamil Tigers. Across the north of Sri Lanka, an unknown number of landmines litter the once productive paddy fields, farm lands and beautiful landscape now threatens lives and livelihoods.
The Army is playing a key role in the demining process and providing an excellent service. Demining each and every inch of the land and making land safe for people to return to their villagers is now a priority. Demining by hand is slow and painstaking work. Scanning a square metre at a time with a metal detector, every beep over certain strength means a slow, careful dig into the parched solid earth, and a fingertip search. In addition to manual methods, dogs and latest demining machines available in the world are used for demining process in Sri Lanka to accelerate the Government's resettlement programme.
However Sri Lanka is the first country which succeeded in removing more than half of mine fields in a short period. The government said that over 1,170 square kilometres of land in the North and the East have been cleared of mines so far and nine NGOs including the Army are in the process of clearing the remaining contaminated land. According to Director General of National Demining Centre over 28 square kilometres in Jaffna, 568 square kilometres in Killinochchi, 270 square kilometres of land in the Mannar and 167 square kilometers of the Vavuniya districts have been cleared of land mines.
Mine and UXO clearances enable the resettlement of IDPs; infrastructure reconstruction and the resumption of social services and livelihoods. Demining is a very slow process and it should be done very carefully. It must carry out in compliance with the international standards. Countries emerging from conflicts have announced that they would spend more than a century to clear mine fields. Vietnam announced that they needed 600 years to ensure that the country is free from mines. Sri Lanka's steady progress, determination and focus of demining, targets to become a mine risk-free country before 2020.
After visiting the mine fields in the North, newly appointed British High Commissioner John Rankin said on the occasion of the 'International Day for Mine Awareness' that Sri Lanka had achieved commendable results in its demining activities. Since the end of defeating terrorism, HALO Trust (UK based demining charity), supported by UK Aid from the Department for International Development has been able to step up its demining work to meet this huge humanitarian challenge. They have made safe more than 16,000 deadly mines and numerous hidden landmines have been identified and removed in the first two months of 2010 alone.
Sri Lanka's National Mine Action Programme, the National Mine Action Programme operates under the leadership of the National Steering Committee on Mine Action (NSCMA), chaired by the Ministry of Nation Building and Estate Infrastructure Development. UNDP-supported District Mine Action Offices (DMAOs) in Batticaloa, Vavuniya, Kilinochchi, Mullaitivu and Jaffna help the Government Agents (GAs) to coordinate and manage mine and UXO clearance in conflict affected districts. Sri Lanka's public health care system offers medical treatment to mine survivors. Mine victims also access the physical rehabilitation centers producing artificial limbs and assistive/mobility devices operated by Sri Lankan Government as well as many NGOs such as, Handicap International, the Jaffna Jaipur Center for Rehabilitation and the Valvuthayam Mannar Rehabilitation Center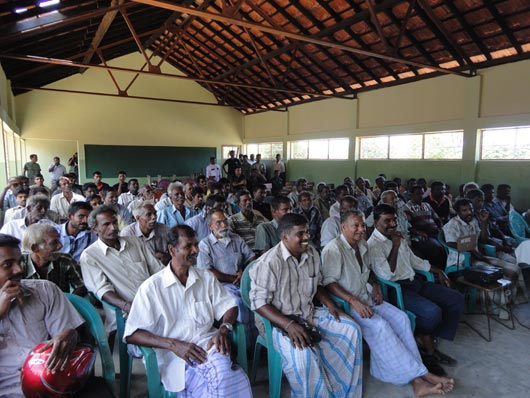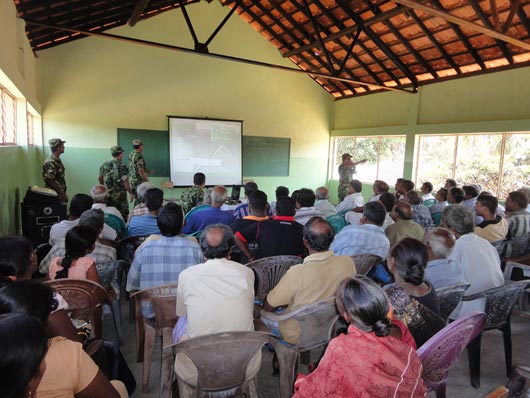 Latest Headlines in Sri Lanka