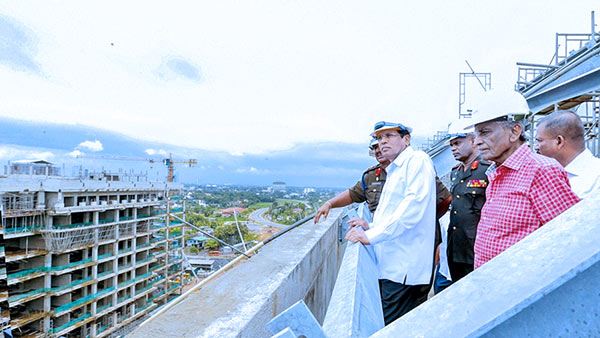 The abrupt and unplanned decision taken by the previous regime to remove the Defence Headquarters from Colombo has cost an annual rent of Rs. 5 bn for 15 buildings, the defence forces are occupying at present.
Minister Mahinda Samarasinghe who was speaking at a press brief held at the SLFP headquarters yesterday evening, said President Maithripala Sirisena had revealed this to the Cabinet, at the recently held weekly Cabinet meeting.
President Sirisena, Samarasinghe said has observed that a proper procedure should have been followed when removing the headquarters, from which the military forces could have avoided having to pay large sums of money as rental for 15 buildings they occupy temporarily. The hasty decision to remove the Defence Headquarters from Colombo is a probe worthy matter, Minister Samarasinghe also said.
He said that several Cabinet ministers have requested President Sirisena to appoint a Presidential Commission of Inquiry to investigate into similar anomalous decisions taken by the previous regime causing large financial losses to the public.
Minister Samarasinghe also pointed out that the project to relocate the Defence Headquarters to Akuregoda in Battaramulla is temporarily suspended since there is an ongoing investigation over financial irregularities relating to this project as well. The US$ 125 mn earned from the land sold to Shangri-La Hotels by the previous regime was deposited in a special account in the Central Bank to build the Pentagon style Defence Headquarters building at Battaramulla.
Minister Samarasinghe pointed out that the said plot of land was not leased out, but was sold to Shangri-La Hotels by the previous regime.
"It is important to probe as to why the decision to remove the Defence Headquarters from Colombo was so sudden. This was a serious decision to make.
"The Defence Headquarters provided much needed security to the Colombo city as well. In a situation like that, it is important to find out why such a hasty decision was taken to remove the Defence Headquarters in this manner," Minister Samarasinghe said.
Minister Samarasinghe went on to say that the President will nominate a representative for each district to collect evidence against SLFP members supporting other political parties.
"Now the military forces occupy 15 buildings which are situated at different locations. Earlier all these divisions were together.
The Military also has to pay a large amount of money as rental for these buildings as well. We believe it is important that we probe into this matter," he also said.
Meanwhile, speaking on the same matter, Military Spokesman Major General Roshan Seneviratne said that they were of the opinion that the Defence Headquarters would be relocated to Battaramulla by mid next year.
(Source: Daily News – By Amali Mallawaarachchi)