Development dividends will reach remotest corners
Posted by Editor on April 10, 2012 - 7:41 am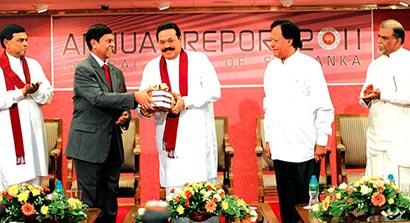 The government's objective is to guarantee that the dividends of the highest economic development that the country has so far achieved, reached the remotest corners of the country, including the North and East, President Mahinda Rajapaksa said yesterday.
The President was speaking after receiving the Annual Report 2011 of the Central Bank from Governor Ajith Nivard Cabraal at the Central Bank.
He said the government has formulated such a mechanism and the massive development projects initiated in the remote areas of the country bear testimony to this initiative
President Rajapaksa said the country was able to maintain an economic growth rate of 8.3 percent last year and the per capita income increased to US $ 2,835. He said unlike in the past, more than 55 percent of the growth is concentrated in the rural areas.
The President noted this historic economic growth could be achieved at a time a majority of countries were in a crisis situation and mainly due to the fact that the country was able to see the back of terrorism that devastated human resources and also due to the fact that the government was able to put in place many strategic policies.
He added that even during the Humanitarian Operation, the government had initiated massive development projects to make the country a hub of many sectors. "Today most of them are reaching completion," President Rajapaksa said.
The President said although the country eliminated terrorism leading to economic progress, local and international organisations which manipulated the LTTE, are still functioning and are reluctant to see the enormous development that has taken place in the North and East.
He added they were blind to the fact that more than Rs 260 billion was utilised in the North and East for infrastructure development.
President Rajapaksa said these people including certain politicians make false statements for petty political gain.
He added the room for foreign intervention in the country was created through terrorism. He said those who attempt to solve our problems suffer due to numerous issues in their own countries.
President Rajapaksa said reconciliation cannot be made overnight as suggested by outsiders as hatred was spread for three decades by the terrorists.
He added the government has not ceased to make peace achieved at great sacrifice, a permanent one.
The President said: "Suggestions made by outsiders could be short term. We can reach our solutions with mutual understanding."
Centarl Bank Governor Ajith Nivard Cabraal, Central Bank Deputy Governor Chandra Premaratne, Central Bank Economic Affairs Department Director Swrna Gunaratne also spoke .
International Monetary Cooperation Senior Minister Sarath Amunugama, Economic Development Minister Basil Rajapaksa, Finance and Planning Deputy Minister Gitanjana Gunawardena, Secretary to the President Lalith Weeratunga and Deputy Governor of Central Bank Ananda Silva also participated.
Courtesy: Daily News
Latest Headlines in Sri Lanka