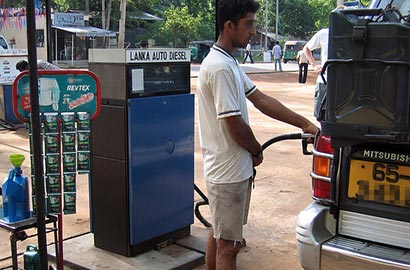 The suspension of the Singapore-based company, Vitol, from the registered list of the Ceylon Petroleum Corporation (CPC) in 2009 and the reenlistment of the company in 2011 were both done in accordance with the decisions of the CPC Director Board, Petroleum Industries Ministry sources said yesterday.
The registration of the fuel suppliers is normally done by the commercial section as per the standard norms and conditions of the CPC.
The registration is done on the approval of the Technical Evaluation Committee (TEC) and Standing Procurement Committee (SPC).
The suspension of a registered fuel supplier is carried out on the recommendation of the TEC and SPC.
In 2009, certain power plants of the country were dysfunctional due to the incompatibility of the specifications of the furnace oil imported by Vitol. That particular oil stock was purchased for the industrialists by the CPC authorities.
As a result, Vitol was blacklisted by the then CPC Director Board and removed from the registered list after legal consultation with the Attorney General's Department in 2009.
In 2011, the CPC Director Board again enlisted the company to provide furnace oil to the Kerawalapitiya power plant as per with the requirement of the CPC.Vitol then started to supply oil in accordance with the tender as a registered company.
Therefore, the decision of the suspension or reenlistment of suppliers are totally being taken by the Standing Procurement Committee and Director Board decisions.
Courtesy: Daily News