DMK pulls out of UPA govt over Sri Lanka Tamils issue
Posted by Editor on March 19, 2013 - 11:33 am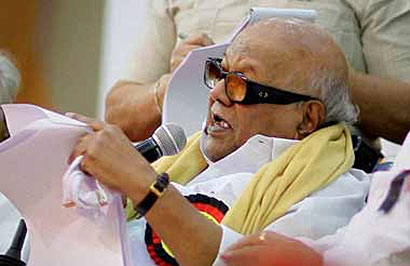 NEW DELHI: The DMK on Tuesday pulled out of the UPA government over the issue of allehed human rights' violations of Sri Lankan Tamils.
The DMK ministers are set to resign from the UPA government.
Addressing a press conference in Chennai, DMK chief Karunanidhi said that our ministers will submit their resignations shortly.
"The DMK has always worked for the Tamils and has been demanding a tough stance against the Sri Lankan government over war crimes against Tamils, Karunanidhi said.
Karunanidhi had yesterday said he felt "let down" by the "lukewarm" response of the Centre and had demanded amendments in the resolution on Sri Lanka.
One of the amendments was to "declare that genocide and war crimes had been committed and inflicted on the Eelam Tamils by the Sri Lankan army and the administrators."
The second one was "establishment of a credible and independent international commission of investigation in a time bound manner into the allegations of war crimes, crimes against humanity, violations of international human rights law, violations of international humanitarian law and crime of genocide against the Tamils."
Karunanidhi said Parliament should adopt the resolution incorporating these two amendments. (India Times)
Latest Headlines in Sri Lanka