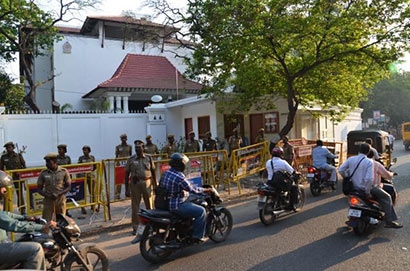 – Submitted by Walter Jayawardhana –
The Sri Lankan Deputy High Commission in Southern India has written to the State government asking for increased security to be given to Sri Lankan people and establishments in the city.
The request follows Statewide agitations on the issue of Sri Lanka's human rights record and attacks on Buddhist monks, including one on Monday.
"We have sought enhanced security arrangements to protect our people and establishments, including the Bank of Ceylon, Sri Lankan Airlines and the Mahabodhi Society premises," said O.L. Ameerajwad, minister and head of chancery.
Expressing concern over the attacks on Buddhist monks, Mr. Ameerajwad, who, at present, is holding the additional charge of Sri Lanka Deputy High Commissioner, said many pilgrims were arriving in TN on their way to visit Bodh Gaya in Bihar.
"The Tamil Nadu police are cooperating well. The attack came as a shock. But as of now, we have not issued any travel advisory to pilgrims or tourists visiting Tamil Nadu from Sri Lanka," he said.
On Monday, a general alert was sounded in the State and police kept a close watch on the movement of Sri Lankan nationals, particularly Buddhist monks. In Chennai, where protesters marched to the airport and other Central government establishment, city police commissioner S. George reviewed the security scenario with senior police officials.
Tight security arrangements were in place at the Sri Lanka Deputy High Commission on Sterling Road as well as the Mahabodhi Society in Egmore. (The Hindu)