Do not touch us
Posted by Editor on July 2, 2014 - 8:10 am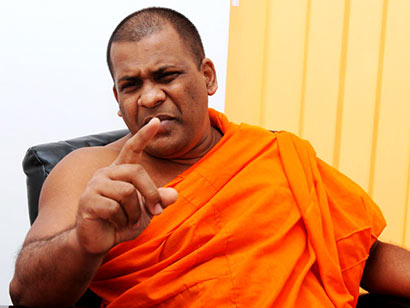 The Bodu Bala Sena (BBS) yesterday admonished the government, the Opposition and the police, to not touch them, as it would be a move tantamount to digging their own grave.
The United National Party (UNP), certain powerful foreign diplomatic missions and Muslim extremist organizations were behind the clear international conspiracy that orchestrated the recent communal clashes and religious riots in Aluthgama and Beruwala, the BBS intoned.
CEO of the BBS, Dr. Dilanthe Withanage said, "Leader of the UNP Ranil Wickremesinghe and UNP Parliamentarian Mangala Samaraweera by publicizing clashes must not try to push us into politics."
He lamented the fact that no one had talked about what would have happened in Aluthgama and Beruwala had the BBS not intervened.
The BBS also noted that Beruwala was a hot spot for harbouring and fostering terrorism through a centre for training terrorists, which was masquerading under the guise of being a religious institution.
"If the government feels that we are the root cause and result of Aluthgama and that arresting General Secretary of the BBS, Ven. Galagodaaththe Gnanasara Thera will solve all the problems that we have sounded the gong about for years now, then by all means do so but also understand that every building in the country will have to be made a voluntary prison and every coconut tree a gallows' pole," Education and Research Unit Chief Coordinator of the BBS, Dr. Chamila Liyanage said.
Ven. Gnanasara Thera was of the view that the police had no right to arrest Sinhalese youth who had taken pieces of wood or sticks in self defence when Muslim youth armed with deadly petrol bombs were walking the streets.
"The police are arresting them, beating them and throwing chilli powder on their faces and chucking them for 14 days in the slammer," he added.
The BBS disclosed that Muslim extremism was spreading in Kattankudi, Kalmunai, Mattakkuliya and Akkaraipattu and the Hindus in Hatton were being converted to Christianity.
(Courtesy: Ceylon Today)
Latest Headlines in Sri Lanka