Don't copy my action- Malinga
Posted by Editor on May 9, 2012 - 5:32 pm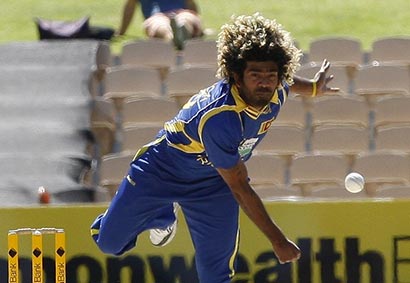 Lasith Malinga is a unique cricketer in many ways. It is not just his slinging action that is a standout feature; he's probably the only cricketer in the ongoing Indian Premier League (IPL) who has hardly attended more than a couple of practice sessions and still stands out as the highest wicket-taker of the tournament with 20 scalps in eight matches.
The exciting Sri Lankan believes in being match fit and prefers to rest well in between games. Malinga spared some time on the eve of Mumbai Indians' clash with Royal Challengers Bangalore to talk to MiD DAY on a host of things.
Excerpts from the interview:
How would you describe your five years in IPL?
It has been good. The crowds keep cheering; so many people come for the matches. I have learnt how to handle the pressure now.
You are the most popular bowler in Mumbai…
People cheer performers. If I don't play well tomorrow, they will not cheer for me. That is how cricket is. If someone else starts performing well, they will cheer him.
You invariably end up being the best bowler in every IPL. How do you maintain your consistency?
I don't think I am the best bowler. I like to play with some pressure… either in the beginning, in the first Power play or in the end with a few overs left. Every time I bowl with pressure. All I think about is taking wickets.
How tough is it to consistently bowl those yorkers?
It is tough. If you want to be a journalist, you have to be a trainee and learn things. Same is with bowling. If you want to bowl yorkers and short deliveries, you have to train hard.
Can you tell us a bit about your training sessions?
I am 28 now, and looking to play for another two or three years. I cannot run much or train hard now after the knee injury, but I try to maintain my skills and fitness levels. I don't go much to the gym. Whenever I am fit, I directly play a match. It is very important for bowlers to maintain bowling fitness. I have that and know how to manage it. I trained very hard when I was 20-21 and did a lot of running.
You are again in the reckoning for the Purple Cap…
I never set any such targets. I only look to take as many wickets as I can. That is my mindset.
What would you tell youngsters trying to copy your action?
Don't do that! Nobody should imitate anyone. Every individual is unique and has his own style. One must develop it. Only then will you be effective. You can copy me, but there's no point. You have to be accurate. I have come up my own way. It's (slinging) my natural action. I never developed it.

There will be a new auction at the next IPL. How much value do you put on yourself?
I don't know if I will be playing in the next IPL or no. I only concentrate on my next match. I don't know how much my value is… they (team bosses) will decide it.
Does the 2011 World Cup final loss still haunt you whenever you enter the Wankhede Stadium?
I got Sachin (Tendulkar) and (Virender) Sehwag's wicket in the final. I enjoy playing here. Before the (2011) World Cup final, I played in the IPL and got a lot of support here. I'm happy. It is quite similar for me… playing in India or Sri Lanka.
Tell us about your hairstyle…
I just apply colour to my hair. If anyone else would have done it, people would have made fun of them. Just because I am a cricketer, it becomes stylish.
NDTV Sports / Pix by Reuters

Latest Headlines in Sri Lanka