A mum is a mum wherever she may be
Posted by Editor on May 10, 2012 - 9:45 am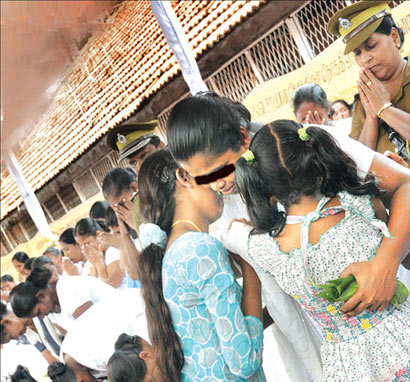 Around 800 women prisoners were united with their offspring at a function at Magazine Prison yesterday in an event to mark International Mothers' Day.
The ceremony was held to strengthen family unity and bonds and highlight the unique role of the mother.
The mothers were felicitated under the theme Maathru Wandana .
Rehabilitation and Prison Reforms Minister Chandrasiri Gajadeera was present along with ministry officials. The event was emotional since this was the first time mothers in prisons were accorded such an honour.
On the advice of Minister Gajadeera, the Prisons Department had taken steps to have family members meet their mothers who are in jail. Following a brief anusasana , the children worshipped their mothers.
Addressing the mothers and their family members, the minister said mothers form the core of the family unit.
Courtesy: Daily News
Latest Headlines in Sri Lanka