We bought…but not paying says NSB
Posted by Editor on May 10, 2012 - 11:30 am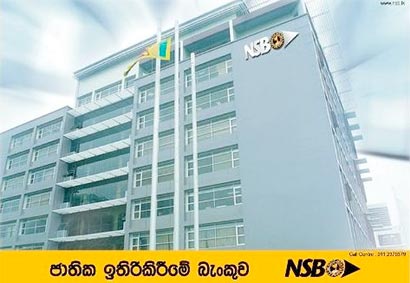 Setting an appalling precedent, putting the country's equity market's credibility on the line, National Savings Bank (NSB) in a newspaper advertisement has said that the bank's director board has decided not to pay the moneys due on the The Finance-NSB transaction.
It also said that the decision was conveyed to the Treasury Secretary P.B. Jayasundara and the other parties involved in the deal.
According to the advertisement published in leading daily newspapers in the country, NSB has purchased the shares of TFC on a detailed analysis it had done in 2011, planning to buy 8 percent of TFC, when the firm offered 40 million voting shares in a public subscription.
But NSB said, since the issue was oversubscribed, they were not in a position to proceed with their plans.
"Similarly, the bank received an invitation from a stockbroker to purchase voting shares in March 2012. Since the bank had already carried out a detailed analysis in January 2011, the Board Sub Committee on Corporate Lending and Equity decided to re-look at the investment from a strategic initiative point of view with further analysis."
"Having done a further analysis, a favourable consideration was given to purchase voting shares of TFC, amounting to 10-15 percent," NSB said in its advertisement.
However, it went on to say that the director board of the bank was of the view that the benefits of this investment is not as strong enough to proceed with, a decision was taken not to make the payment, due on this transaction.
According to stock market analysts, NSB not honouring its due payment sets a very negative precedent and will no doubt result in a loss of confidence towards the country's equity market.
As they pointed out, now any person investing in the country's stock market can say, "Well, I thought it was good investment, but not anymore. So I'm not paying."
Courtesy: DM Online
Latest Headlines in Sri Lanka