Don't start new projects without finishing the old – President Rajapaksa
Posted by Editor on October 24, 2013 - 12:23 pm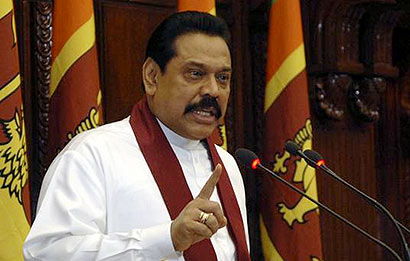 President Mahinda Rajapaksa has said that the public are inconvenienced periodically by the decisions that are taken on development projects.
The President expressed these views at a discussion held at temple trees on Wednesday. The discussion was held to collect ideas and proposals from the deputy ministers for the preparation of the 2014 budget.
The President had also said that all public representatives must act in a collective manner in the public development programme that has been put into action for the country and public.
The President had added that the responsibility of the public representatives should be to make the development programme launched by the government a success and not the achievement of personal objectives.
The Presidential Media Unit noted that the President pointed out the importance of completing the development projects that have already been initiated before commencing new projects.
The deputy ministers had submitted proposals for building hospitals and bridges, the mitigating of the human-elephant conflict, the reconstruction of small irrigation works and the minimising of city traffic.
(Courtesy: News First)
Latest Headlines in Sri Lanka