Drug Lord Wele Suda paid Thro' eZ Cash – Of the 174 recipients, 45 are prison officials
Posted by Editor on September 22, 2015 - 8:04 am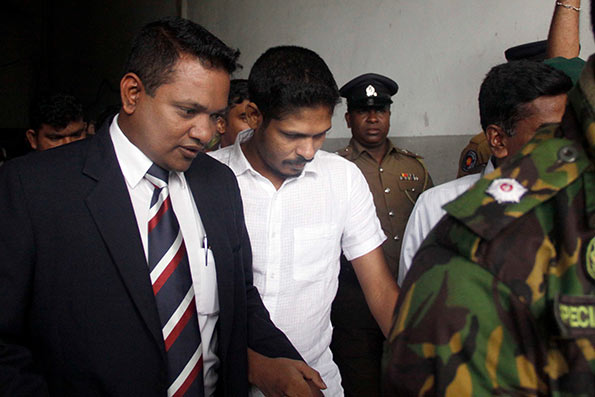 Notorious drug dealer Samantha Kumara alias Wele Suda has paid million of rupees in the form of bribes to 174 people using electronic fund transfer methods – 'eZ Cash' via mobile phones.
The CID yesterday (21) informed the Colombo Chief Magistrate's Court that Wele Suda transferred money to the corrupt officials through the 'eZ cash' method provided to users by mobile service providers.
This was revealed when the Police under the orders of the IGP were asked to investigate into the method in which Wele Suda made payments to various people, said OIC of Financial Crimes Division of the CID, I.D.N. Weerasinghe addressing Courts.
The hearing of the case was resumed before Colombo Chief Magistrate Gihan Pilapitiya.
Out of the 174 persons under the payroll of Wele Suda, the CID found that 45 of them were prison officials. The prison officials had been paid a total sum of Rs 3 million through the 'eZ cash' payment method, CID said.
The CID further stated that they would be forwarding the details of these prison officials to the Commission to investigate allegations of bribery and corruption.
The CID has also arrested six other people involved in circulating the money Wele Suda allocated for bribing officials.
Among these are; Suraj Ahmed, Saliya Kumara, Sugath Kumara, Asanka Chanaka Fonseka, who have been further remanded until 2 October by the Chief Magistrate. The Courts have also been informed that the CID is conducting a massive operation to uncover those who have received money from Wele Suda.
Wele Suda who was arrested and brought to the country in January of this year is currently being questioned by the CID in prison under detention orders.
His second in command and key figure in the distribution of drugs, Mohamed Siddique too was arrested thereafter.
(Source: Ceylon Today)
Latest Headlines in Sri Lanka