TULF recommends Domestic and Hybrid special courts in parts
Posted by Editor on September 22, 2015 - 8:17 am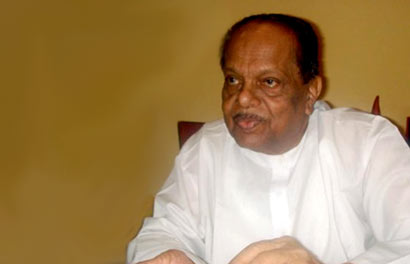 TULF General Secretary V. Anandasangaree said as far as the Tamil United Liberation Front is concerned, in the first instance the TULF will opt to choose the Hybrid special court to probe the alleged war crimes. But after seriously considering the type of cases that are to be probed into, the TULF feels that in the interest of the victims certain types of crimes cannot be conveniently taken up by the Hybrid special courts and vice versa.
Issuing a statement Anandasangari said: "Except some uncomplicated cases, all the others will have to be decided on the merits of each case, as to whether it is the Hybrid special court or the domestic mechanism that should probe into a particular incident, to determine which a special unit could be set up, Sangaree said issuing a statement.
He said; "although I have very justifiable reasons for giving this suggestion, the TULF does not want to decide arbitrarily and instead wants the interested parties to take a joint decision.
The practice of one taking a decision and the others following should be done away with and a collective decision should be insisted on. It is a great shame for the Tamil leadership not to get united even for matters that greatly concern their community.We have to learn from other ethnic groups. Let no one pretend to be cleverer than all the others.
It is very unfortunate that a matter of great importance to every one of us in this country and to many others from the diaspora, is being taken lightly.
I am referring to the much awaited UNHRC's recommendations to probe the alleged war crimes in Sri Lanka.
Without realizing the seriousness of the issue, all sorts of suggestions come from all types of people, some of whom seem to be claiming that they are the authorities in this subject and some others expect that only a particular group should deal with this problem. Since many are pulling in different directions it is difficult to come to a common understanding.
The UNHRC has recommended the setting up of a Hybrid special court to probe the alleged war crimes and has also advised the integration of international judges, prosecutors, lawyers and investigators, while the US proposes the establishment of a domestic mechanism to inquire into the war crimes.
The most serious Human Rights violations and crimes can be classified under three or four categories namely Rape with torture, Rape torture and murder, torture and murder, Missing persons accompanied with torture or murder etc.
This can be further classified into offenses committed by the forces and Paramilitary groups.
Everyone knows that it is difficult or impossible to get a victim of rape and torture to give evidence in open court. Since most cases of rape will include torture as well, the TULF suggests setting up of panels comprised of female Judges or senior female lawyers to hold inquiries in camera to the exclusion of others and make suitable recommendations including compensation. Cases of torture resulting in death should go to the Hybrid special court and only torture could be taken up for probing at the domestic courts.
A committee could be setup to decide on the merits of each case as to which one should be investigated by the local court or the Hybrid special court. Cases for which capital punishment can be imposed should be referred to the Hybrid court and in the event of the Hybrid court is not setup, to appease the affected party, a team of observers with legal knowledge could be made present at all such trials. Furthermore in the event of absence of provisions in our laws to deal with a crime, suitable provisions could be introduced in our legal system. In every case sufficient compensation should be offered to the victim or to the heirs, if the victim is no more or cannot be traced. Any disability caused to the victim or if any serious ailment is traced or complained, all assistance should be given including any equipment recommended."
(Daily News)
Latest Headlines in Sri Lanka