'Laws against illicit drugs will strengthen' – President
Posted by Editor on September 22, 2015 - 11:40 am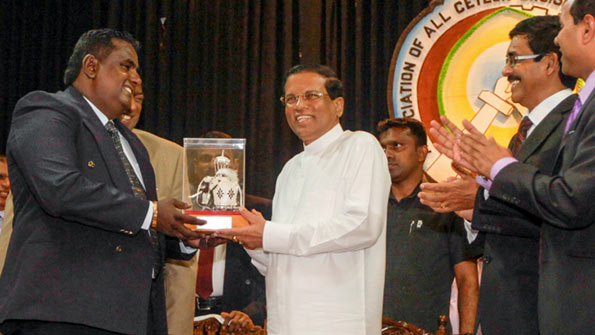 President Maithripala Sirisena said that the Government will take every possible step to eradicate the drugs menace by strengthening laws related to drug raids.
The President further said that the government will create an environment where the officers will be able to operate in a strong way by removing obstacles faced by them when using their powers as the officers or enforcing laws and regulations relating to drugs.
The President was speaking at the 64th anniversary celebrations of the Association of Chief Excise Inspectors and Excise Inspectors, held at the New Town Hall, Colombo.
The president pointed out that it is a weakness of our society in not admiring people who do a great service to the country. He further said that the new Government will implement a program to encourage and admire officers like Excise Inspectors who render a valuable service to the society.
The purpose of the new government is to maintain the functions of institutions like Excise Department, the Department of Inland Revenue, Customs, which generate income to the State in a corruption free and a more transparent manner, he added.
President Sirisena said that as a Government which is committed to create a drug free country will not wish to include the income from the Department of Excise in the future when preparing the budget of the country. The President requested Excise officers to fulfill their duties in a perfectly satisfactory manner to safeguard our future generation from drug menace and to build a better and healthy nation.
Minister Ravi Karunanayake, Chathura Senarathna-MP, Commissioner General of the Excise Department Buddhika Veragoda and other dignitaries participated in the event.
(President's Media)
Latest Headlines in Sri Lanka