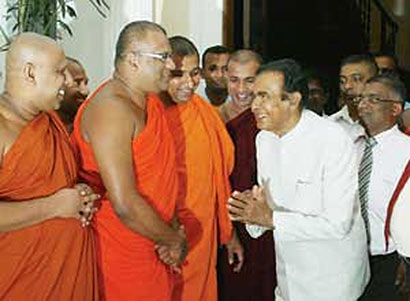 The Bodubalasena has intervened to settle a clash between UPFA constituent, the Jathika Hela Urumaya (JHU) and Prime Minister D. M. Jayaratne over a letter issued by the latter's office to a heroin smuggler.
A delegation of monks led by Ven. Galagodaatte Gnanasara yesterday met Premier Jayaratne at the PM's official residence to discuss ways and means of resolving the crisis.
A Bodubalasena spokesperson told The Island that the conflict had divided the Sinhala Buddhist community and, therefore, the organisation had felt need to intervene.
The official said that as the Premier was the minister in charge of Buddhism, the ongoing battle could cause irreparable damage to the country's image. Asked whether the Bodubalasena delegation had sought an explanation from the Premier as regards the serious allegation that his office had helped heroin smugglers, the official quoted Jayaratne as having said that he hadn't done anything wrong.
The meeting took place at Ackland House close on the heels of the JHU threatening to sue Premier Jayaratne unless he tendered a public apology to its leader Ven. Omalpe Sobitha Thera. Alleging that Premier Jayaratne had made some derogatory remarks against Ven. Sobitha , the JHU said that it would seek compensation to the tune of one billion rupees.
Bodubalasena said that the slanging match wouldn't help law enforcement authorities to identify those who had been involved in the particular smuggling attempt of a huge quantity of heroin from Pakistan.
The heroin detection was made on intelligence made available by Pakistani authorities.
The JHU insisted that the government couldn't ignore the allegation made against the Premier that he had benefited from his relationship with heroin smugglers. The party said that it would continue to push the government until tangible action was taken against all those involved in the criminal trade.
The JHU wants the Premier to quit his post and face an investigation.
Recently a Pakistani team visited Colombo to investigate the largest single detection of heroin in Sri Lanka.
Venerable Rajawatte Wappa Thera, president of the National Sangha Council (NSC), has backed the JHU's campaign demanding that action be taken against the Premier as well as his son, Anuruddha.
(Courtesy: The Island)