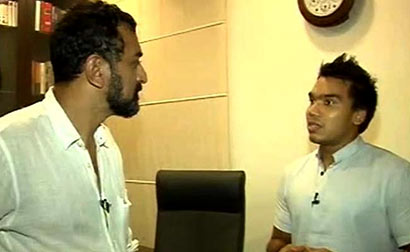 Mahinda Rajapaksa's 10-year reign as Sri Lankan president ended with allegations of nepotism and corruption. Over 40 top government positions were held by his family and friends – cabinet portfolios to state finance corporations, airlines and sports federations. One of his brothers was his defence secretary, while another was the speaker of the parliament. A nephew is chief minister of Uva Province while a brother-in-law was the chairman of the state carrier, Sri Lankan Airlines. His son, Namal, was being groomed as his political heir.
Since the defeat, the family has retreated into a shell. But Namal Rajapaksa, the son of the defeated president in a rare interview to NDTV offered a highly unusual defence of charges that his family's dynastic rule led to their rout.
He said the close knit ties between his father and his uncle, the Defence Secretary, Gotabaya Rajapaksa, was responsible for Lanka's military victory over the Liberation Tigers of Tamil Eelam or LTTE.
"The war was ended because of this bond within the family," Namal said at the office of his law firm in the heart of Colombo. "Any leader needs someone they can trust as secretary of defence. My father was able to take strong decisions as an individual along with the leaders of the government but the leader needs someone they can trust," he added.
When asked whether this was a feudal argument in a modern democracy, where an elected leader needs to trust their colleagues regardless of family affiliations, Namal said, "We always trusted each other, but can I ask you is it a crime that I became the President's son?"
Namal, now 28, was inducted into his Sri Lanka Freedom Party or SLFP by his father and won his first election on 2010 from Hambantota district.
The new government investigating a complaint alleging that in the early hours of January 9, when it became clear Mr Rajapaksa was losing the election, he called a secret meeting at his residence attended by top officials to plot the declaration of Emergency in Sri Lanka.
Namal denied any such meeting, but acknowledged that officials may have come to see President Rajapaksa. "Various people came to speak to him right throughout the night. It's normal at the end of the election, the government officials always come and talk."
(Courtesy: NDTV)