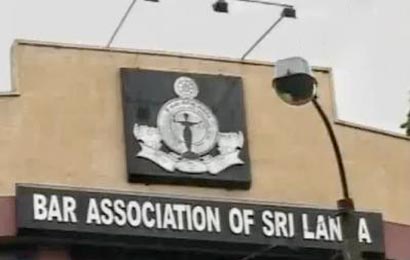 Sri Lankan lawyers on Saturday demanded the resignation of the country's chief justice over allegations that he tried to help ex-president Mahinda Rajapakse remain in office despite last week's election defeat.
The influential Bar Association of Sri Lanka (BASL), which includes the vast majority of lawyers in the country, said it wanted Mohan Peiris to resign over his role in an alleged coup bid.
Police this week announced the launch of a criminal probe into a complaint by Foreign Minister Mangala Samaraweera that defeated strongman Rajapakse tried to use military force to stay on.
In comments published on Twitter, Rajapakse has insisted he had readily accepted "the people's verdict", in his first reaction to his defeat to Maithripala Sirisena.
President Sirisena's top aides say Rajapakse had the chief justice poised to legitimise a state of emergency after the strongman attempted to sabotage the vote count in the early hours of January 9.
Rajapakse is also accused of urging the island's army and police chiefs to deploy the security forces. Neither has spoken openly about the events on the night of the vote count.
There has been no reaction from judge Peiris to the allegations against him, but the BASL said he should go.
"It is reiterated and emphasised that it is absolutely essential for the chief justice and members of the judiciary to remain strictly separate and involved in political and executive decisions," the BASL said.
"The executive committee of the BASL calls upon Hon. Mohan Peiris to tender his resignation in order to preserve the honour and integrity of the judiciary."
The new government has said the coup bid was defeated because the army and police chiefs resisted pressure from Rajapakse.
Peiris had been appointed chief justice after the controversial impeachment of his predecessor Shirani Bandaranayake in January 2013.
The new president, who was sworn in on January 9, has vowed to restore Bandaranayake, who was sacked after her rulings went against the former administration.
(AFP)