Former President spent over Rs.2 billion in state funds on election ads
Posted by Editor on January 18, 2015 - 8:03 am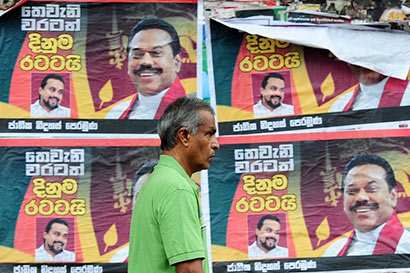 Normally money talks loud and convincingly in influencing the masses to a great extent in deciding a winner in Sri Lanka's previous elections, but this time at the 2015 Presidential election, the highest spending candidate Mahinda Rajapaksa was defeated by opposition common candidate Maithripala Sirisena who resorted to a low key campaign with a smaller advertising budget.
Mr. Rajapaksa spent millions of rupees of public money on his advertising campaign during the presidential election period while his opponent spent less than 1/3rd of the Rajapaksa budget, a comprehensive report compiled by a group of senior officials from the Finance Ministry revealed.
The former President spent over Rs 2 billion for advertising in electronic and print media while his rival spent Rs.676 million, the report, seen by the Business Times, disclosed.
According to official findings, a sum of around Rs.1 billion was spent by Rajapaksa for the air time for advertisements telecast in all television channels.
The cost for advertising in all radio channels was Rs.330 million. He has spent around Rs. 700 million for full page advertisements published in all newspapers, the report said.
The total expenditure without production cost for these advertisements was Rs.2.03 billion which came from public funds and financial budget for the president's office and other ministries, the report pointed out.
The over Rs.2 billion spent by the two main candidates for the Presidency only covers the cost of publishing, broadcasting or televised advertisements in print and electronic media excluding the cost of production. The actual cost could be very much higher as a large sum of money is needed for the production of such advertisements, sources at state television told the Business Times.
(The Sunday Times / Pix by Getty Images)
Latest Headlines in Sri Lanka