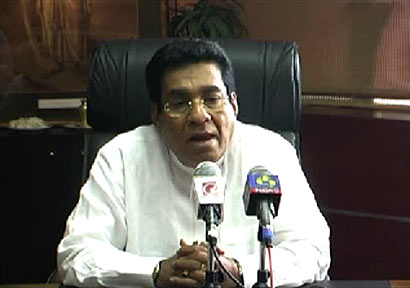 Former Minister Mervyn Silva today lodged a complaint with the Criminal Investigations Department (CID) against former Economic Development Minister Basil Rajapaksa and former Defence Secretary Gotabaya Rajapaksa.
Speaking to reporters outside the building, the UPFA MP stated that the complaint is regarding alleged criminal activities which had taken place under the previous government and that he has handed over evidence to support his claims.
The controversial politician, who was the Minister of Public Relations and Public Affairs under the UPFA government, said that he is not seeking revenge and that, however, Basil and Gotabaya did extract revenge from him.
Silva accused the former Defence Secretary of being involved in several high profile assassinations carried out in the country in the recent past and also blamed him for creating the 'white van' culture.
The former minister said that he could lose his life over his allegations, but said he is willing to die proudly after revealing the truth and declared: "If I die it will be as a lion, not as a fox."
He stated that of former President Mahinda Rajapaksa, who ended the war, had established good governance, Maithripala Sirisena would have not left the party.
Silva also expressed his strong belief that President Sirisena and Prime Minister Ranil Wickramaginshe as seasoned politicians would usher in a new era in the country with good governance.
(Ada Derana)