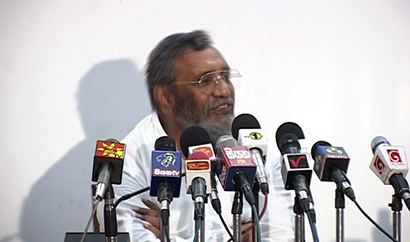 In the wake of a surge in election law violations in the Moneragala District, Elections Commissioner Mahinda Deshapriya yesterday instructed Inspector General of Police, N.K. Ilangakoon to brief up security in the district in the run-up to the elections to the Uva Provincial Council.
Some Janatha Vimukthi Peramuna (JVP) supporters were attacked by a mob at Badalkumbura in Moneragala last morning when they were putting up decorations for a major political rally to be addressed by party leader Anura Kumara Dissanayake.
The JVP said the mobsters had fired in the air to intimidate the JVP activists. Later, JVP General Secretary Tilvin Silva wrote to the IGP requesting for extra security in the area.
When asked about the situation in the area, Mr. Deshapriya said incidents of violence had increased in Moneragala and therefore he had instructed the Police Chief to strengthen the security in the area.
The election monitoring group, People's Action for Free and Fair Elections (PAFFREL) had also written to the IGP requesting to him to identify the vulnerable areas and ensure more police patrols especially in the night to curb possible violence.
PAFFREL Executive Director Rohana Hettiarachchi said he requested the IGP to issue weapons to police personnel on duty.
"The JVP members were attacked in Badalkumbura in the presence of several police officers and being unarmed they were not in a position contain the violent mobsters who were larger in number. If they had weapons, they could have at least fired warning shots," he said.
After the close of nominations 35 party offices were reportedly ransacked in the Uva Province. Now, the violent trend has snowballed into a situation where even firearms were used to intimidate political opponents.
(Daily Mirror)