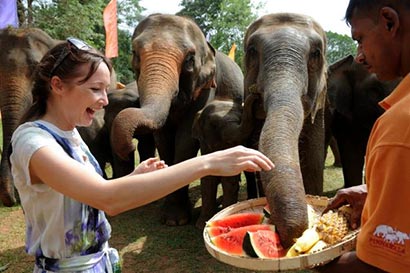 Onlanka News – by Walter Jayawardhana
The Hindu featured the christening of fifteen baby elephants in Sri Lanka's unique elephant orphanage and said the naming of the elephants were done according to traditional astrological principles after astrologers casted the elephant horoscopes.
The christening ceremony was done last Sunday in front of a large number of foreign and local tourists, with some offering the elephants with fruit trays of sweet juicy tropical fruits.
The newspaper said all 15 of the elephants were born at Pinnawela 13 last year and 2  in 2010.
The zoologists at Pinnawela have mastered  the science of how elephants could conceive in captivity.
In Sri Lanka the majority of human babies born are named astrologically. The astrologers give the first letter of the name and parents name the babies accordingly.
Nihal Senaratne, Director of the Pinnawela orphanage, said the name was determined by an astrologer.
"An astrologer looked at the time of birth of each elephant. He then decided on the first letter of each baby's name according to its horoscope."
The names given were according to the newspaper: Singithi, Ahinsa, Themiya, Wanamali, Trinky, Elvina, Nandi, Mangala, Annuththara, Jeevaka, Kadol, Isira, Bimuthi, Aithi and Gagana.
Foreign and local visitors were also asked to give names. The foreigners named two of the babies.
The orphanage, about 80 km east of Colombo, is a major tourist attraction where large crowds gather to watch the elephant bath.
The elephants are herded to the nearby river for the daily bath. Opened in 1975, Pinnawela houses 83 elephants, most of whom were abandoned or separated from their herds when they were babies.