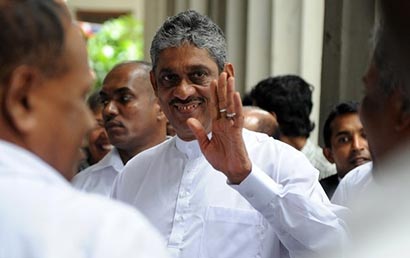 Onlanka News – by Walter Jayawardhana
Just weeks after being freed by the government former Army Chief Sarath Fonseka has been provided with security by the government.
The Sri Lanka government is under international as well as domestic pressure to return most privileges he has lost due to the ex-generals incarceration.
Fonseka  requested the opposition to withdraw a private members bill seeking the revocation of government acts against him like suspension of civil rights , suspension of his pension his convictions that would allow him to enter parliament, taking away of his military titles and medals.
The government security team is led by an insepector of police.
Venerable Maduluwawe Sobhitha Thero , a politically powerful Bhuddhist priest at a public meeting taken part by hundreds of bhikkus urged the President to give back his lost rights.
Since the release the former General has not taken part in any active politics though he is the leader of the political party Democratic National Alliance.
The  former army commander is credited of leading the country's armed forces to victory ending a war that lasted 30 years.
During his incarceration of about three years the United States called him a political prisoner.