England in Sri Lanka: Rain in Colombo wrecks tourists' final warm-up match
Posted by Editor on November 24, 2014 - 6:07 am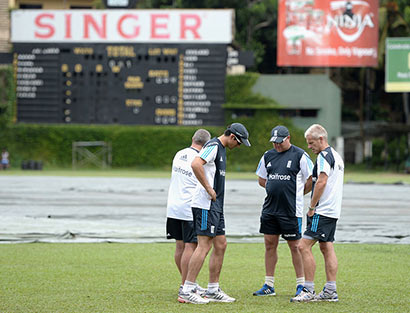 England were frustrated by rain in Colombo as their final warm-up match was abandoned without a ball being bowled.
The tourists were due to take on a Sri Lanka A side for the second time in three days ahead of the first one-day international on Wednesday. But persistent rain at the P. Sara Oval meant no play was possible, and England will go into the seven match series with just one warm-up under their belts.
Alastair Cook's side did at least win that match comfortably, Moeen Ali's all-round performance helping them to a 56-run success.
Batting coach Mark Ramprakash was disappointed that some of the squad will begin the seven-match series on Wednesday without an innings since the end of last summer.
They instead had to make do with a middle practice, rain-sodden areas fenced off, after their second match against Sri Lanka A – comfortably beaten at the SSC on Friday – was abandoned.
"It is disappointing," said Ramprakash, on his first assignment in his new role at the start of this World Cup winter.
"It means that some players will be going into an international game without having had an innings since September – which clearly isn't ideal.
"But we came out here knowing cricket tours can be affected at this time of year by bad weather. We can't control that."
England had no complaints with the circumstances surrounding the cancellation – although hopes were briefly raised that some play might be possible once the rain stopped.
"The covering was excellent, in the 30-yard circle," said Ramprakash.
"But then, when you get out towards the boundaries – and at the far side particularly – it was very boggy.
"We couldn't really see that drying in time – and in a limited-overs international, they're going to be flying around the boundary."
(Sky Sports / Pix by Getty Images)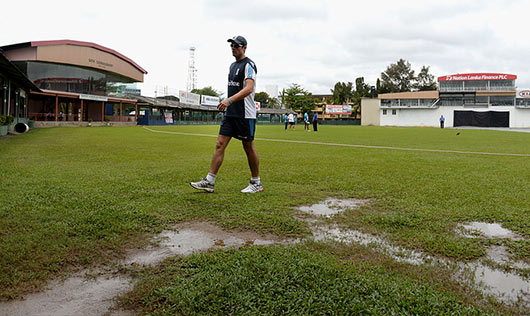 Latest Headlines in Sri Lanka