EPF may go bankrupt due to mismanagement- UNP
Posted by Editor on May 24, 2014 - 7:40 am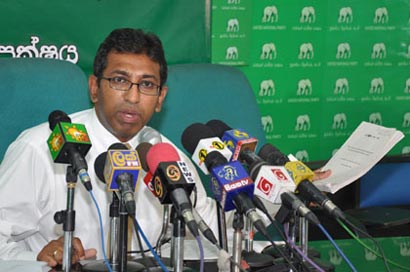 The 2011 EPF accounts which were presented to Parliament on Wednesday has only a qualified opinion from the Auditor General (AG) which indicated that he was not satisfied with the incomplete information that had been provided, the UNP said yesterday.
Economist and UNP MP Harsha de Silva addressing a press conference in Colombo said that the AG by qualifying his opinion had clearly indicated that there were several unanswered questions in the EPF's 2011 financial statement which had been made available to the legislature over two and a half years late.
"The AG by his cautious approach has, in effect, taken up the position that the information provided is incomplete and did not meet stipulated procedures."The biggest private sector workers' fund was fast running out of money due to mismanagement. Refunds which were 40 percent of collections cum investment returns in 1990, had increased to 76 percent by 2011, he charged adding that if that trend continued there would be a negative cash flow situation very soon, leaving retiring EPF members in a precarious situation.
Dr De Silva said the EPF had claimed that it was making profits and they were being reinvested in government securities. "There is a conflict of interest since the CB which borrows on behalf of the government also manages EPF monies which are in turn lent to white elephants. The CB is required to borrow at the lowest rate, so how could it ensure maximum returns for EPF funds?"
The EPF was still reeling from the massive loss it suffered by investing in Grain Elevators in 2011. Three investors in the Colombo Stock Exchange had got together and "pumped" the share which was trading around Rs.40 to Rs. 250 and then "dumped" it at Rs.185.The EPF was among the buyers having invested over a billion rupees. It was now trading around Rs.36 and the Fund has had to absorb the loss. This was just one of many imprudent investments it had made resulting in its members returns diminishing rapidly, he pointed out.
The MP called on the EPF to urgently address the AG's concerns expressed by his "qualified opinion" with regard to its 2011 Financial Statement and also speedily present complete audited accounts for 2012 and 2013 to Parliament, without any further delay.
(Courtesy: The Island)
Latest Headlines in Sri Lanka