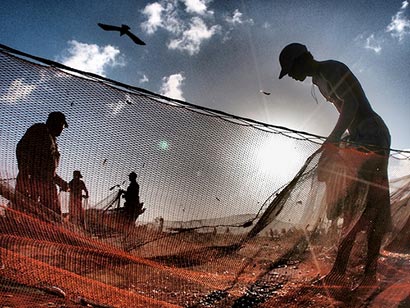 Fisheries State Minister Dilip Wedaarachchi said yesterday the European Union's ban on the export of fisheries products from Sri Lanka had been suspended for six months.
"The Foreign Minister Mangala Samaraweera visited the European Commission and discussed the issues with regard to the lifting the ban on exports of fisheries products," he said.
This matter was discussed at the first cabinet meeting of the new government and the conditions laid down by the European Union are being gradually implemented.
Agreements were signed last year during the tenure of former fisheries Minister Rajitha Senaratne to install satellite-guided Vessel Monitoring System (VMS) on all fishing vessels of Sri Lankan origin.
"The European Union gave Sri Lanka six months to get its act together to prevent Sri Lankan fishermen from engaging in Illegal fishing. The approval was granted for the installation of 3,000 VMS units," the Fisheries State Minister said.
"The foreign company which has been contracted to install the VMS equipment within six months on 1,500 fishing vessels has arrived in the country. The agreement was to be signed at the ministry office yesterday, but the minister had refrained from signing the agreement for reasons best known to him," he said.
The state minister said the reason for not signing the agreement was not known and it would take another six months to find another company to proceed with the VMS installation.
"This particular company is well-recognized and the Cabinet approval has also been granted," he said.
(Daily Mirror)