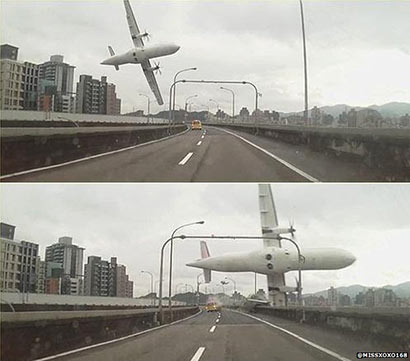 At least 12 people have died after a TransAsia Airways plane clipped a bridge and crashed into a river near the Taiwanese capital, Taipei.
Fifty-eight people were onboard the domestic flight. The plane is now half-submerged in the Keelung River.
Rescuers have cut open the side of the fuselage and are trying to rescue several people still trapped inside.
Taipei officials said 16 people suffered injuries. Thirty people are still unaccounted for.
Cindy Sui reports: "Many of the people on board are still inside the aircraft"
The ATR-72 turbo-prop plane had just taken off from Taipei Songshan Airport and was heading to the outlying Kinmen islands, just off the coast of the south-eastern Chinese city of Xiamen, CNA said.
Flight controllers lost contact with the plane at 10:55 local time (02:55 GMT).
Footage of the plane apparently filmed from inside passing cars showed it banking sharply, hitting a taxi and clipping the bridge before crashing into the river.
Television images showed rescuers standing on large sections of broken wreckage trying to pull passengers out of the plane with ropes.
Those that were rescued were helped into dinghies and taken to shore, including a small boy.
Out of the 58 people on board 53 are believed to be passengers and five are crew. Thirty-one of the passengers are tourists from mainland China.
The BBC's Cindy Sui in Taipei says the Chinese tourists could have been on their way home as many people come to Taiwan through Kinmen island.
In July last year 48 people died when a TransAsia Airways plane crashed amid stormy weather in Taiwan's Penghu archipelago. Taiwanese authorities said it was due to pilot error.
(BBC)