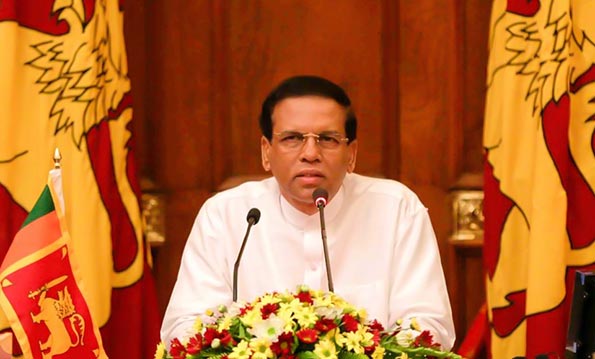 President Maithripala Sirisena has reiretated his commitment to abolishing the executive presidential system. This assurance was given at his first meeting with editors of national newspapers at the President's House on Wednesday.
Declaring that the next parliamenary election would be called soon after the implementation of the 19th Amendment to the Constitition, the President emphasised that he would be mindful of the fact the UNP had facilitated his victory at the Jan. 8 presidential election. He said he wouldn't do undermine the SLFP either.
Recollecting how the SLFP had opposed JRJ's 1978 Constitution, the President said that the introduction of the 18th Amendment had resulted in rapid deterioration of the situation.
President Sirisena said he he greatly valued media freedom. People should have the right to express their opinion freely. Even in Parliament, members should have the freedom to speak freely, the President said. However, during a crisis, members had to act in accordance with decisions taken by the party.
Commenting on constitutionl reforms, the President said that the government wouldn't be dissolved until the introduction of the 19th Amendment. The public would be given about two weeks to discuss the proposed reforms, the President said, adding that his government was proposing short and long term solutions.
Stressing the need to do away with the preferential vote, the President said that some felt that members should be allowed to switch their allegiance to another political party. But, others believed that crossovers shouldn't take place under any circumstances.
The President said that the National List, too, had failed to yield desired results save the appointment of Lakshman Kadirgamar to Parliament.
The President reiterated that the country needed a natioal government for at least two more years after the next parliamentary election if it was to overcome its problems.
(The Island)