Extortion rackets at fish market: Lion's share of protection money went to politicians – Fisheries Minister
Posted by Editor on April 11, 2011 - 9:06 am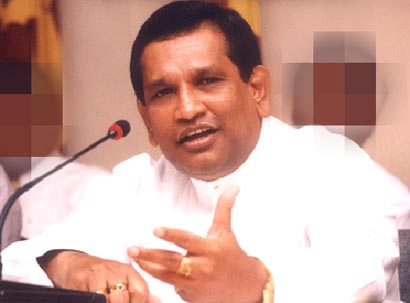 Fisheries and Aquatic Development Minister Rajitha Senaratne yesterday said the lion's share of protection money collected by extortionists at the St John's Fish Market in Colombo had gone to certain politicians.
The politicians had not taken action to eliminate extortion there because they were hobnobbing with extortionists, Dr. Senaratne told a press conference at Colombo Hilton yesterday.
Extortionists backed by some powerful politicians had tried to resume their operations at the Peliyagoda Fish Complex. They had been arrested thanks to prompt action by President Mahinda Rajapaksa, Defence Secretary Gotabhaya Rajapaksa and IGP Mahinda Balasuriya, Dr. Senaratne said.
At St. John's market a powerful extortionist had employed several people to unload and cut fish while others extracted money from wholesalers. Those underworld elements had tried to resume their operations at the newly built Peliyagoda fish market. Following many complaints by fish traders, Economic Development Minister Basil Rajapaksa had prohibited some politicians from visiting the market Minister Senaratne said.
But, as the situation took a turn for the worse, he had been compelled to inform Defence Secretary Gotabhaya Rajapaksa of the extortion rackets at Peliyagoda fish market and ask for action to rid the place of thugs and the latter had lost no time in ordering I.G.P. Mahinda Balasuriya to instruct DIG Anura Senanayaka to eliminate all extortion gangs as soon as possible, Dr. Senaratne said.The Minister said the government had planned to construct a special prison for convicted extortionists because the existing ones were already congested.
Minister Senaratne invited fish traders and consumers to come to the Peliyagoda fish market without fear because security had been beefed up.
Courtesy: The Island
Latest Headlines in Sri Lanka