Faiszer says his nephew is innocent
Posted by Editor on September 4, 2018 - 9:10 am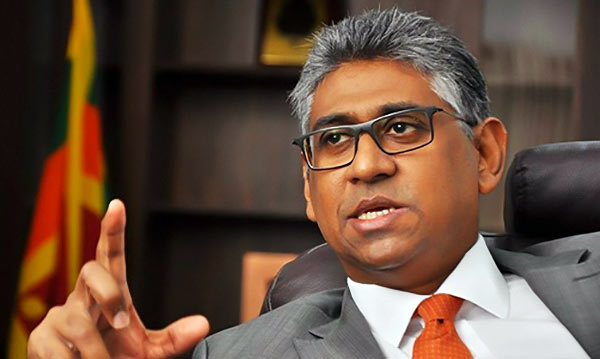 The family of the Sri Lankan student in New South Wales accused of planning to assassinate senior Australian politicians say the alleged Islamic State affiliate is "just like any other boy".
Mohamed Nizamdeen, 25, was studying and working at the University of New South Wales (UNSW) and was arrested after a colleague found a notebook allegedly containing details of plans to kill Malcolm Turnbull and his former deputy Julie Bishop.
Mr Nizamdeen's uncle Faiszer Musthapha, the Sri Lankan Sports and Local Government Minister, who spoke exclusively to Hack, said he believes his nephew is innocent.
"We love him – when anyone has done something wrong they should deal with them – but as a family we believe he's innocent," Mr Musthapha told Hack.
"As a family we believe he hasn't done anything wrong, we're very confident of that but until the judicial system makes a finding we'll have to wait and see.
"I don't want to pre-judge things… all that we can say is that we have love, affection, and praise for him."
The alleged list of targets also included the former speaker Bronwyn Bishop, the Sydney Opera House, major train stations and police stations across the Harbour City.
The student's uncle said Mr Nizamdeen had not spoken to any family members since he was arrested, charged and refused bail last week
"I think the Australian Government has a process with regards to at what stage [the family] would get access," Mr Musthapha said.
"We respect the judicial system, I know at the appropriate stage he will have access but the family's praying he will get access [to them] as soon as possible.
"If the Australian law does not permit any form of communication for a particular period of time, we have to respect that."
Police have said Mr Nizamdeen appeared to be an Islamic State Affiliate despite not charging him with being a member of a terrorist organisation.
"I don't think he was researching anything of that sort, if you look at how he conducted himself when he last came to Sri Lanka, he was a fun-loving, sociable, loveable, caring person," Mr Musthapha said.
"It's a difficult time for the family… but I know any judicial system has to deal with this among a global phobia of terrorism, so the Australian Government would also be concerned if there's any suspicion of any form.
"But I believe he'll be proved innocent."
Police allege Mr Nizamdeen, who does not have any criminal history in Australia, was operating by himself, but do not believe he was capable of carrying out a terror attack.
If convicted, Mr Nizamdeen could face up to 15 years in prison.
His uncle said despite his position in the Sri Lankan Government he would not be appealing to his Australian counterparts in regards to his nephew's case.
"I may be a government minister but this is a personal matter and this needs zero governmental interference," Mr Musthapha said.
"Just because I'm a minister of the Government, it doesn't mean the Sri Lankan Government should interfere and it would be wrong if they did so."
Mr Nizamdeen's LinkedIn page says he's been working as a Business Systems Analyst at UNSW since 2016, where he helped develop several projects aimed at stopping identity theft.
The commerce graduate was one of the faces of the university's Hero Program and he was in Australia on a student visa which was due to expire at the end of this month.
"He's just like any other boy, he plays, he dances, he sings, he parties – he's not different to any other kid in Australia or Sri Lanka," Mr Musthapha said.
"Let's just wait and see, I'm very confident – as a family we're going through a very difficult time because we believe he's innocent…. we are very confident that with the right representation he'll be able to state his case that he is innocent.
"Everybody in the family is shattered and broken but the fact that this happened in Australia, we know that you have a good judicial system and justice will prevail."
(Source: ABC News)
Latest Headlines in Sri Lanka