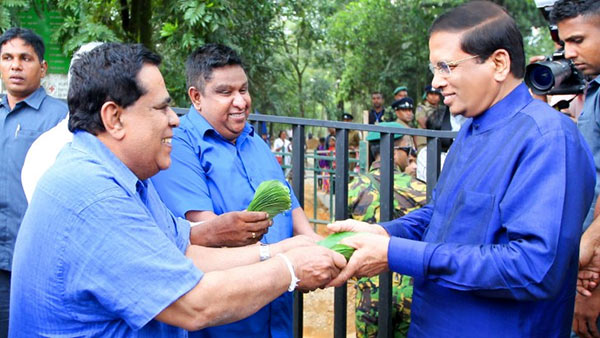 President Maithripala Sirisena says steps will be taken to increase the fifty percent subsidy given to farmers on seed potatoes up to 100 percent.
The President further said that additional steps will be taken to completely stop the re-export of tea considering the damage caused to the reputation of Sri Lankan tea at the international level as well as taking into account of the downfall in the tea industry of the country.
Accordingly, steps will be taken to completely stop the re-export of pepper in the future in order to protect the local farmers as it caused to reduce the price of pepper.
The President made these remarks addressing a public rally held in Badulla yesterday (28).
'Even though he has put the responsibility of the management of the economy of the country on the shoulders of the United National Party(UNP), considering the oppression the people of the country going through, steps will be taken in the future to manage the economy of the country through the National Economic Council appointed by himself', said the President.
Whatever is said by the political parties that come in front through many façades, the SLFP has the responsibility of the agenda to build a nation deprived of fraud, corruption and malpractices, said President Sirisena adding that all should hold hands with the SLFP towards the path of transformation that is essential to the country.
The President who stated that the SLFP is built today around a clear opinion of people said that SLFP has become the party which has won the public opinion of people.
This public rally was held in Badulla to ensure the victory of the United Peoples Freedom Alliance including the SLFP under the Patronage of the President with a huge gathering of the public.
Senior vice President of SLFP Minister Nimal Siripala de Silva, State Mnisters Dilan Perera, Lakshman Seneviratne ,Provincial Minister Senthil Thondaman and many others present in the meeting.
(President's Media)