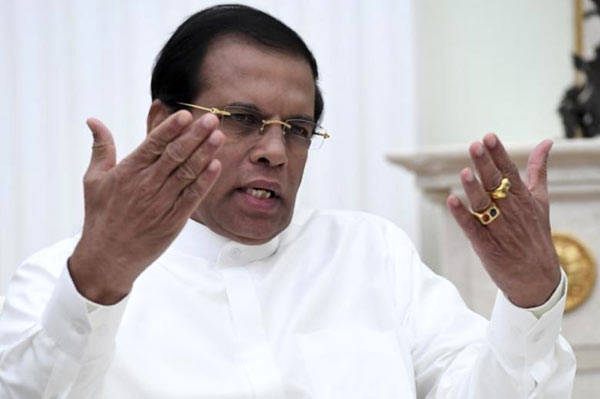 President Maithripala Sirisena yesterday questioned the nation on whether they wished to go back to the dark era by voting in favour of the Sri Lanka Podujana Peramuna (SLPP) Pohottuwa of Prof.G.L. Peiris.
The President made these remarks at a television interview he had with the Sirasa channel yesterday. The President pointed out instances where the media was suppressed, journalists killed, abducted and media institutions set on fire, during the Rajapaksa regime.
Besides, billions of public wealth was looted and state properties sold including the six acre land on which the Army Headquarters was situated and the many acres of Port City project.
The President questioned whether people were ready to go back to the dark era once again by voting for the SLPP.
The President said that the Sri Lanka Freedom Party (SLFP) should be strengthened at the forthcoming election so as to ensure a free and just society.
President Sirisena said Mahinda Rajapaksa was defeated on three occasions by the people of the country but again he begs votes through the SLPP.
"However, he is not a member of the SLPP. He should have a backbone to quit the SLFP, if he really wanted to back up any other political party," he said. The President admitted that there is a delay in taking action against fraud and corruption. But in future he will take measures to get the legal process against these frauds speeded up.
The President added that as an outcome of fruitful steps taken against the monetary misconducts, especially establishing the Presidential Commission on Treasury Bond Issue, unruly persons responsible for mega scale financial irregularities have created a broad alliance to fight corruption in the face of an emerging "alliance" that seeks to scuttle probes into acts of corruption. However the President stressed that the Government is determined to go ahead with the probes and punish those responsible with immediate effect aiming to establish a healthy and a just society.
The President said that the public are against the arbitrary acts of the Government Medical Officer's Association (GMOA).
"Everyone is duty bound to work for the progress of the country. Not only politicians but also all other persons are responsible to work for the betterment of the country," he noted.
(Source: Daily News – By Dharma Sri Abeyratne)