Film on Prabha's death to dispel doubts: Action Plan for LLRC implementation
Posted by Editor on March 13, 2012 - 7:47 am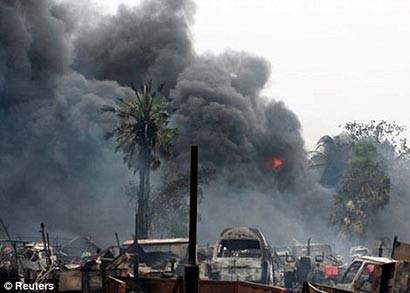 * 'The Army Commander appointed the board about a month ago to formulate the Action Plan. The board has almost finished the draft'
An Action Plan detailing how recommendations of the Lessons Learnt and Reconciliation Commission(LLRC) report could be implemented in the country's North, will soon be handed over to the Ministry of Defense by Sri Lanka Army.
Acting Spokesman for the Sri Lanka Army, Brigadier G V Ravipriya yesterday told the Daily News, a board comprising senior officers of Sri Lanka Army had formulated the Action Plan on how to implement the recommendations stipulated in the LLRC report.
Army Commander Lt. Gen Jagath Jayasuriya had appointed the board about a month ago to formulate the Action Plan, he said.
"The board has almost finished the draft," he said. "The Action Plan will be handed over to Army Commander Lt. Gen Jayasuriya for perusal , who will hand it over to Defense Secretary Gotabhaya Rajapaksa," he said.
Meanwhile, the Sri Lanka Army is considering making a documentary film about LTTE leader Prabhakaran's death.
Army Commander Lt Gen Jayasuriya had told Army troupes in Oddusudan that a film would be made to explain to the international community how Prabhakaran died in the battlefield. Acting Spokesman Brigadier Ravipriya said the movie would be made with a view to dispelling various doubts and falsehood that had manifested around his death.
The so called diaspora and pro-LTTE elements together with their international sympathizers across the world have been saying that Pabhakaran suffered an inhumane death at the hands of Sri Lankan Security Forces.
"The film will be made so that the real story of Prabhakaran's death is known to the international community. It will depict what really took place and happened," he added.
"The project of the film is at the initial stages. This is expected to bring the truth to light," he said.
Courtesy: Daily News
Latest Headlines in Sri Lanka